NEW CHILDISH GAMBINO PROJECT COMING SOON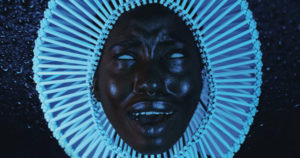 Article by Robert Sneed
Childish Gambino, or better known now as Donald Glover, has had a tremendous year so far. He recently wrapped up production on his hit production "Atlanta" that premiered on FX. The rapper/actor has now been rumored to have another project coming soon. First spotted by reddit user, _Luciddreams, a photo was posted from an FYE store with the title "Awaken My Love" written on the board. Gambino even released a short tweet himself saying Awaken, My Love! The board also lists a possibility that "Awaken My Love" will be releasing on December 2nd. If the picture is accurate and can be confirmed, this would be a big step forward for Gambino.
"Awaken My Love" is spelled out with no types of punctuation in the title. This would be a full-length project and would be the first project dropped since STN MTN, his mixtape in 2014, and '"Because the Internet", his album that released in 2013. The album cover features a woman with pure white eyes wearing a unique headpiece and nothing else. The album is already on pre-order on sites such as Itunes and amazon for $9.99.
There hasn't been much news about this upcoming project, however, some really lucky fans have been able to get some very intimate sneak peaks. Childish Gambino recently held a three-day event called "The Pharos Experience" located in Joshua Tree, California. He released an app so fans could purchase tickets to this specific event. It was here that Gambino teased some new music that were from the album. He didn't allow the use of phone at his shows to keep the event private and to not leak out any content.
Gambino hasn't talked much about the album and what direction the album will be taking in music. He had an appearance on the Ellen show, however, he did not talk about the Album itself. Although much hasn't been said, there are a few things that are known right now. The album will feature twelve new tracks giving the runtime of this album a total of 70 minutes. "Awaken My Love" will be a lush blend of different genres with minimal rapping and wordplay from Gambino. A twitter post from user @MichaelArtress makes points about the album such as "Jazz/Funk hybrid", "Creatively Different", and "Concept album with creepy tribal vibe" to talk about the music.
There was also some new material that Donald Glover created that is not related to this album. In his show Atlanta, some new material surfaced during his fifth episode "Black Justin Bieber". This track has Glover singing over a light, vibrant, and bubbly beat that gave a fun feel to the show. With all of the buzz floating around, Gambino still hasn't confirmed an actual release date for this new project that has many waiting on the edge of their seats. Fans can check out his first song off of the album called "Me and Your Mama" which has been released. The song already has over four million views on youtube. This may provide some insight about what is to come from this new secret project.