Yum Yum building condemned after SUV hits it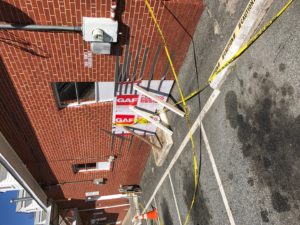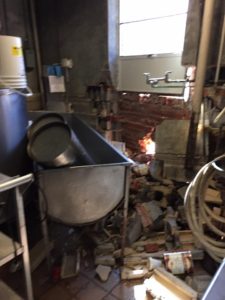 By Chyrrée Counts & A'Kiva Rooks
Contributors
Yum Yum Better Ice Cream, a hub for hot dogs and ice cream on
the UNCG campus, has been condemned due to an accident. However, the owners have are planning to reopen in the future.
Upon attempting to exit the parking lot, the driver of an SUV placed the vehicle into drive as opposed to reverse and struck the building. Images on Yum Yum's Facebook page (above) show the damage that led to the city's decision to condemn the building at 1219 Spring Garden Street.
A&T graduate student, Jasmine Hooks, copy desk chief for The A&T Register, said, "I've only been twice, but I've known about it for seven years," she also said, "The hot dogs are good, especially the one with chili, but I've never had the ice cream." She further explains "It sucks that the restaurant has to be closed down because it has been a home for UNCG for so long, and if it doesn't re-open then Greensboro will have a missing piece to its city because it has been a part of the culture for so long."
Greensboro resident LaDonna Tisdale, is saddened about the incident, she said, "I love their hot dogs. They look kind of gross because they are a strange red color but they are good!"
Tisdale appreciates the variety that is provided, "They serve a lot of regional favorites such as chili dogs and sodas from a glass bottle and hand dipped ice cream." She also likes the great prices, "It is very inexpensive, $2.25 for a large scoop of ice cream is good."
Yum Yum's legacy has gained a variety of loyal customers from all over the nation. Eddie R. from Pearland, Texas said on Yelp!: "The first time I went to Yum Yum was 1984. I was enamored with the hot dogs, ice cream, and Cheerwine. Here we are, over 32 years later, and every time I come back to Greensboro, I'm here! The only way to have a dog is mustard, chili, onion, and cole slaw. If you've never been here, go! Simple, traditional, home."
Since Yum Yum is located on UNCG's campus, this event has affected the UNCG atmosphere tremendously.
Brianna Bryan, UNCG business student said, "I feel like it was an accident so I'm not angry, but a part of history is gone if Yum Yums is closed down. That was a landmark to direct people through campus. Their ice cream was so authentic and so good."
Attempts to reach Yum Yum's for comments were unsuccessful. A message on the business's answering machine said, "We are temporarily closed due to a car crashing into our building. We are condemned at this time. We hope to reopen in a couple of days. Watch our Facebook page for our reopening date."