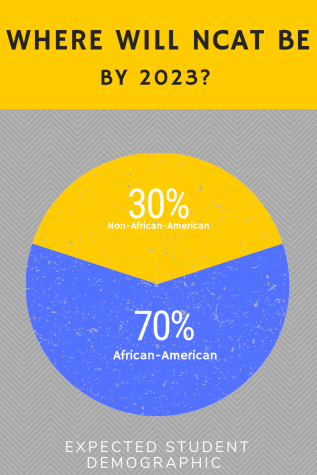 The revised strategic plan, Taking the Momentum to 2023 was announced by Chancellor Harold Martin during the first press conference for the academic year.
One of the main goals of the revised strategic plan is the enrollment of more diverse students.
"The focus of the new strategic plan enhances our presence," said the Chancellor.
Looking more indepth into the goal of enrollment, the 2023 plans include a more diverse campus for the University.
The four section objectives within Goal 5: Diverse and Inclusive Culture are as followed.
5.1 Enhance the cultural and intellectual environment of the university by advancing an inclusive  university campus community.
5.2 Embrace a culture of respect to support diversity in all forms among the faculty, staff and student body.
5.3 Graduate our students with global credentials through experiences abroad, international studies and domestic and international work experiences.
5.4 Address in-state academic achievement gaps facing low-income, rural population and gender-related concerns.
Key Metric and Performance Indicators are defined as progress trackers for the new plan. Many of the indicators for the 2023 plan in terms of enrollment is 14,000 students, and student demographic is 30 percent non-African-American and 70 percent African-American.
Non-African-American groups are becoming more prevalent on campus. College Factual reports 18.9 percent of undergraduate students identify as non-Black for the 2018-2019 year, which is a University performance indicator.
"My experience has not only allowed me to learn from others in different areas, but also allows me to teach individuals about the differences and similarities we share," said Carson Carnahan, a non-African-American freshman civil engineering student.
"I have been welcomed with more than open arms and I wouldn't give up my opportunity to be here for the world."
Although the inclusion of other races are in the plan; gender diversity has not been publicly discussed or displayed in any indicators.
Among the main topic of diversity, there are five other goals N.C. A&T is striving to meet by 2023. These include:
Creating an intellectual climate
Committing to excellence in teaching, research, public service and engagement
Positioning the University to be a research, science and technology-focused institution
Embracing an entrepreneurial spirit and expanding economic engagement
Achieving academic and operational excellence
By 2023, N.C. A&T is expected to have undergone many changes with these six goals.
"It is time to take the next step, to apply the same level of institutional commitment and disciplined implementation that made our successes possible, to move into the exciting future that we envision," said the Chancellor.