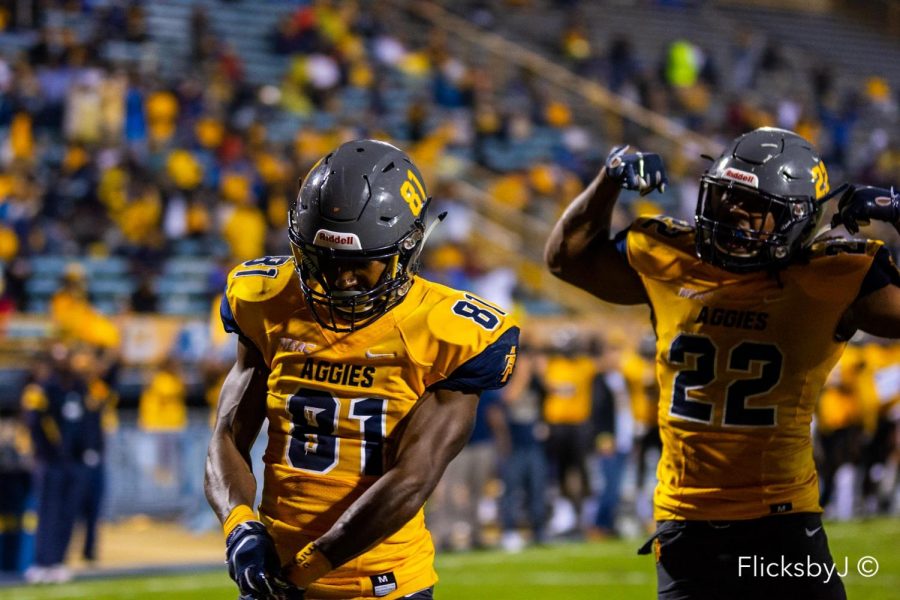 Jamar Plunkett
The North Carolina A&T Aggies are back on top after defeating the South Carolina State Bulldogs.
After taking an upsetting loss against the Morgan State Bears last weekend, the Aggies found their footing against the Bulldogs.
South Carolina State was on a three game losing streak before facing N.C. A&T.
"The football team will continue to win and the loss against Morgan State was just a shortcoming," said Qubanae' Hudson, senior speech pathology student.
With the Aggies starting off to a rocky start on defense and offense, the first quarter ended with the Bulldogs leading 7-3.
Things shook up a little more in the second quarter when an unexpected touchdown by SCSU took place after a failed kickoff attempt by their kicker.
N.C. A&T started to catch up with a 40 yard touchdown run by Jah-Maine Martin (Redshirt So.) ending the first half with the Bulldogs still leading 16-10.
After halftime, the Aggies took the lead with a pass completion to Zachary Leslie (Redshirt, So.). Not only was the offense picking up the pace, but the defense put a stop to the Bulldogs offense and kept them from scoring the rest of the third quarter.
With only five seconds spent in the fourth quarter, Lamar Raynard (Redshirt, Sr.) completes a pass to Ron Hunt (Jr.) for another touchdown.
The Aggie defense put a stop to any progression the Bulldogs tried to make for the rest of the game and the N.C. A&T football team came out on top with a final score of, 31-16.
After last night's game, N.C. A&T is ranked 1st overall in the MEAC, but 5th in the conference.
The team with travel to Delaware State University on Saturday, October 6.