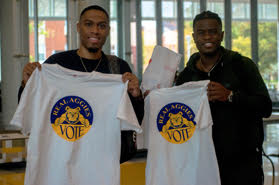 Terrell Peterson
After constant campaigning, voter guide distribution, marching and canvassing, the 2018 Midterm Election Day came to end yesterday night.
Many set high hopes for races on local and state levels in North Carolina, Georgia, Florida and Texas.
Youth vote increased
Youth – from ages 18-29 – have been criticized for being a small percentage of total voters in past elections. This year, however, youth have set out to change this through social media promotions, peer encouragement and self-education.
More than three million young voters voted early which is a 188 percent increase from 2014, according to The Atlantic.
Aggies in specific ensured to achieve a high voter turnout rate than previous elections.
N.C. A&T's Student Government Association (SGA) released a statement via Twitter on the voting turnout of on-campus students:
"North Carolina A&T SU increased our midterm voter engagement by 51%. Our goal was 10%.
In 2014, 471 students voted.
In 2018, 712 students voted."
Anticipated Guilford County election results
U.S. House of Representative District 6: B. Mark Walker (Republican) 57 percent
U.S. House of Representative District 13: Ted Budd (Republican) 52 percent
Board of Education District 6: Khem Denise Irby (Democrat) 51 percent
Sheriff Guilford County: Danny Rogers (Democrat) 53 percent
N.C. Amendments added to Constitution
Four of the six amendments on the ballot for North Carolinians were passed:
Voter I.D. 56 percent voted for the amendment
Hunting and Fishing 57 percent voted for the amendment
Victims Rights 62 percent voted for the amendment
Income Tax Cap 57 percent voted for the amendment
New faces, new representation
This election season has elected the most diverse candidates in history. The LA Times reported, there have been 117 women elected, naming this election a "pink wave." Also, LGBTQ+ candidates and candidates of color have made history.
Some well-known candidates throughout the Nation include:
Sharice Davids– first Native American woman elected to Congress
Ayanna Pressley– first Black woman elected to Congress from Ma.
Jared Polls– first openly gay man elected as governor of any state.
Alexandria Ocasio-Cortez– youngest woman ever elected to Congress.
Ilhan Omar– first Muslim American woman elected to Congress.
Rashida Tlaib– first Muslim American woman elected to Congress.
Young Kim– first Korean-American woman ever elected to Congress.
The governor race of Georgia of Brian Kemp and Stacey Abrams is still ongoing as Abrams has not conceded until "every vote is counted," according to CBS News.
Where the majorities stand
In the Senate, 51 seats are needed for a claimed majority. Democrats hold 46 seats while Republicans hold 51.
Majority for governors is 26. Currently, Republicans have 25 and Democrats have 23 governors, according to WFMY News 2.
The U.S. House majority is 218. The Democrats have gained control with 221 seats.
For more information on NC election results, visit https://www.ncsbe.gov.