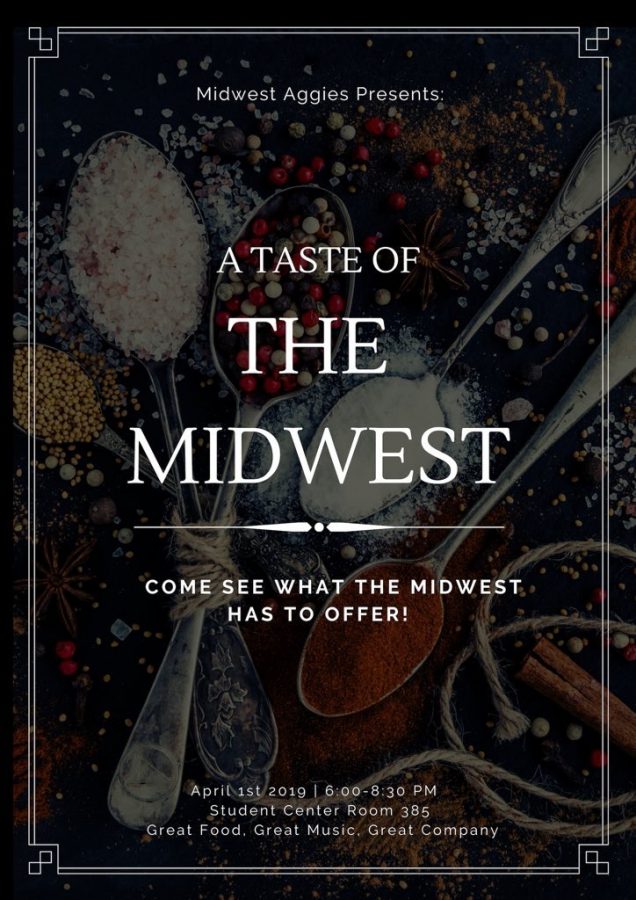 On Monday, April 1, Midwest Aggies held their Taste of The Midwest event in the student center. The event was held to give students from the region a taste of home.
There was much to do during the event. Midwest Aggies incorporated communities service with fun, decorating and stuffing Easter baskets for the kids of the Gateway Education Center. Afterward, the org also had a chance to present fun facts and data on the 12 states that make up the midwest.
There were many different treats to taste during the event with the main food choice being Jet's Pizza which originated out of Michigan. Now, Jets has over 100 franchises spanning from Michigan to Florida.
To wash it all down they had Faygo a soda company that stationed out of Detroit, Michigan.
For dessert, there was Now & Laters and Frooties candies which both come out of the state of Illinois.
Many different students where craving food from home and shared what some of their favorite foods were from home.
"We are known for Coney Island food. Hot dogs with chili, cheese, onions, and mustard with chili cheese fries," stated Midwest Aggies President, Asha McElroy, a junior food and nutritional science student from Detroit, Michigan.
"I miss Imo's pizza the most. I think we aren't known for our Chinese food, but we should be," stated Allison Gilmore, a junior journalism and mass communications student from Saint Louis, Missouri.
"We are known for Gates Barbecue, that's why you go to Kansas City," said Madison McGary, a junior peer mathematics student from Kansas City Missouri.
Even though many students are far from home and miss the good eats of their hometowns some feel as though they are apart of something bigger and found a home away from home.
"I joined Midwest Aggies because I wanted to call a place home away from my home and I was able to meet people from Detroit and relate to them on foods and the culture of our city," says McElroy.
"Being from St.Louis, Missouri and raised in Columbus, Ohio, I wanted to be able to be around people from both," stated Danielle Nicks, a junior chemistry student from Saint Louis, Missouri.
Events like the Taste of the Midwest are very important to Midwest Aggies and its members.
"Events like this are important to eliminate stereotypes and misconceptions about different cities located in the midwest, and just to educate people about the midwest region," stated Shekinah Curry, junior child development and family studies student from Chicago, Illinois.
Gilmore states, "I think it's important because it sheds a light on a population of students that often go unnoticed like they ever shout out any midwest area codes at parties."
Midwest Aggies hope to continue events like Taste of the Midwest so everyone can continue to learn more about their culture.