Which Way Forward?
November 19, 2016
Filed under theYARD
Hang on for a minute...we're trying to find some more stories you might like.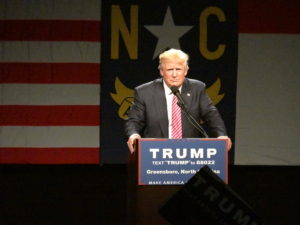 Article by: Brodrick Williams
During the quake of election night, many people across the nation, including students from North Carolina A&T State University, were in total shock and disbelief about President-Elect Donald Trump's historical victory. Dr. Michael Roberto took it upon himself to host an event called "Which Way Forward" during his History 103 class to educate, inform, and ease the disappointment of many students on A&T's campus.
The panelist for "Which Way Forward" included six faculty members Dr. James Mayes, Dr. James Steele, Mr. Derrick Smith, Dr. Stephen Ferguson, Mr. Ernest Hooker, and Dr. Gregory Myerson. Only 30% of students at North Carolina A&T State University voted during the 2016 presidential election. Seeing a percentage of votes that low on a Historically Black College campus was a disillusionment. In 2013, North Carolina legislation tried to pass Senate Bill 666 to end the right for students in North Carolina to vote on their college campuses. If passed, this bill would have also prohibited state income tax dependency deductions for qualifying children who have registered to vote at an address different from their parents' residence. Under state law, college students must register at their permanent address, which is usually their family home, not a dorm room, if this law had been passed. A bill like this should have increased the amount of votes casted, especially on an Historically Black College and University campus. Many found this moment in American history to be life-threatening due to Donald Trump's negatively attack on people during his campaign. Trump's provocative rhetoric to "Make America Great Again" made campaign promises aimed at making changes to immigration, trade, taxes and foreign policy. Trump spoke about building a wall on the United Sates and Mexican border, which would no doubt affect the working and lower class pockets in America. Trump also wants to temporarily ban Muslims from entering the United States, "bring manufacturing (jobs) back," impose tariffs on goods made in China and Mexico, renegotiate or withdraw from the North American Free Trade Agreement and Trans-Pacific Partnership, make a "full repeal of Obamacare" and replace it with a market-based alternative, renegotiate the Iran deal, and "bomb" and/or "take the oil" from ISIS. Having someone as our commander-in-chief with such tactics is quite scary, keeping in mind how other countries would portray or interact with The United States of America.
The last fifty years has been an attack on the working class. Dr. Steele stated, "Trump winning the elections was a crisis for the world. This election alone showed that Americans do not know each other as well as they thought they did. Many people living in the south gave the presidency away. We live in a capitalist society. You're either part of the problem or part or part of the solution." All of the panelists agreed that conditions of the university will riddled with many more challenges, along with other HBCUs, if a crisis occurs in the White House during the four years of president-elect Donald Trump. Dr. Roberto hopes that students will take some helpful tips from "Which Way Forward" – an event which aspired to make students way more serious about the importance of voting and having their voices heard.