Internationally informed by: Danielle Faison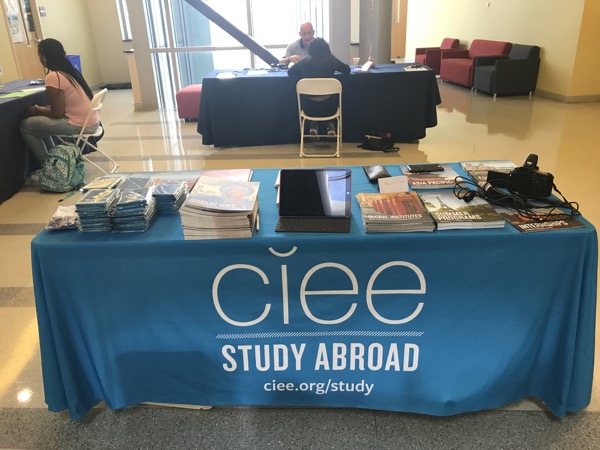 December 7, 2017
Filed under theYARD
Hang on for a minute...we're trying to find some more stories you might like.
The International Program and Chancellor Harold L. Martin are providing students the opportunity to take full advantage of seeing the world by expanding student's minds, broadening their horizons, and expanding their resumes, all while earning college credits.
Sept. 25, 2017, the International Program partnered with the Council on International Educational Exchange (C.I.E.E.) and Chancellor Martin to host the Passport Caravan.
The event was held in the Academic Classroom Building (ACB) allowing the first 100 students the opportunity to gain  free passports.
C.I.E.E. often partners with the International Program to send multiple students on a study abroad opportunity.
They offer a selected campus the opportunity for 50 students to obtain a free passport; which can usually cost up to $150.
North Carolina Agricultural and Technical State University was the selected host school. The International Program took full advantage of the opportunity and even encouraged Chancellor Martin to match their 50 passports with an additional 50. He kindly obliged.
The event was geared towards freshman and sophomores who have a longer opportunity to study abroad but all classifications were welcomed to participate.
"Obtaining my passport today was something that I not only wanted to do but needed to do because I plan on studying abroad in Vietnam next semester and in Africa the summer of 2018," said Joshua Blackwell, sophomore N.C. A&T student.
The International Program is always looking to aid and assist students in their journey in studying abroad.
Financial Aid covers a large sum of the  tuition cost in studying in another country. Scholarships and grants are available as well.
Less than five percent of N.C. A&T students have studied abroad due to lack of knowledge of the affordability for abroad travel.
"Be aware that there are opportunities outside of A&T. You will always be an Aggie, but you can do so by learning another culture, traveling outside the norm, experiencing different foods, while still earning college credits along the way," said Ronice Johnson, Study Abroad Coordinator.
C.I.E.E. and the International Program has plans to award five N.C. A&T students the "Open Campus Scholarship" which allows a travel opportunity during the spring semester.
More information on studying abroad, paying the expenses, and the full process can be found on Oct. 12, 2017.
The Study Abroad Fair will be held in ACB on the first floor.
Students will be granted the opportunity to speak with coordinators, Ronice Johnson and Lydia Arledge, to gain vast amounts of knowledge about the chance to study abroad.