Influential women featured at forum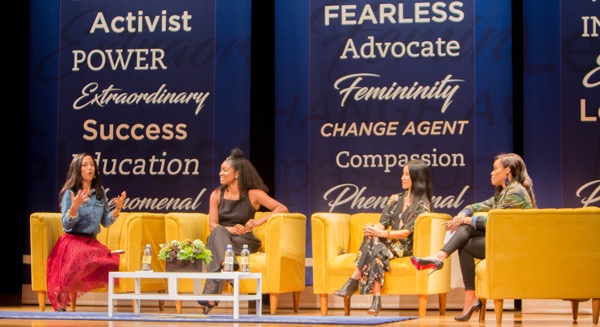 Jazmin Gathers
December 7, 2017
Filed under theYARD
Hang on for a minute...we're trying to find some more stories you might like.
The latest Chancellor's Town Hall featured three influential women
on a panel to discuss women's empowerment with the students of North Carolina Agricultural and Technical State University.
Actress Gabrielle Union, attorney and commentator Angela Rye, and journalist Lisa Ling sat on a panel on Tuesday, Sept. 12, where they discussed health and welfare, representation and success, safety and survival, and the devaluing of women in pop culture. The event was moderated by Danya Bacchus, N.C. A&T alumna and ABC News freelance correspondent.
Health and welfare are something that often go neglected not only among women but in the black community.
According to Bacchus, 25 percent of women between ages 16 and 25 have mental health issues. The conversation was quickly swayed as the panelists admitted that many insecurities stem from social media.
One way to combat the feelings social media can create is to practice restraint and refrain. While many people often run to share their personal lives on social media, Lisa Ling says this is something she frequently practices. Union referenced how N.C.A&T alum Terrence J can post his nice house now, but that post doesn't reflect how many times he's been told 'no,' throughout his career.
"Comparison is the thief of joy," said Bacchus.
Another way to stay strong amidst challenges of health and welfare is
to surround yourself with a circle of friends and family that have your best interest at heart.
"You're not weak for admitting that you have anxiety or depression or any mental health issue," said Union.
Therapy is a great way to maintain a well-balanced mental state. While therapy and counseling are two services that are often under appreciated  the impact of sharing problems with a licensed doctor can be the key to overcoming inner battles.
Representation and success within the workforce has been a constant struggle for black women.
According to Bacchus, 75.4 million women are held to different standards in the work force. Ling shared a story of how she recently overcame a battle in the negotiating room. While she does not believe their intent was malice, the reality is they were still offering her less than her counterparts.
One-fith of women in college are sexually assaulted. Union is a supporter for
the Young Survivor Coalition and the Rape Treatment Center as she is a rape survivor herself. She admitted she still has the signs and anxiety of a rape survivor.
When dealing with sexual assault, one thing that often goes undiscussed is human trafficking. Ling says often times when young girls do not feel loved or appreciated, they run to sex trafficking in an attempt to fill the void.
Union says victim blaming, violent language, and cyber bullying are also something she continues to see which only makes situations worse. With the recent death of a Chicago teen Kanneka Jenkins, Union was saddened to see social media saying that Jenkins should have kept better company.
It's important for people to realize they are not alone. With head nods throughout the entire building, people were comforted in knowing everyone goes through something.
For many people, pop culture and media has been the basis for how women of color are perceived in the real world.
After the event, the panelists opened the floor for questions and took pictures with students. Chancellor Martin closed the event by thanking the panelists, participants, and students.  Martin's next event is the Chancellor's Speaker Series about Women in STEM, moderated by Erica Baker on Nov. 16.