The Misconception of Black Voters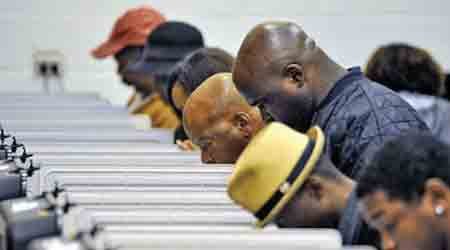 Morgan Williamson, Contributor
October 10, 2018
There has always been a misconception that African Americans don't vote in the United States. It is a wonder where the stereotype started.
In 1965, The Voting Rights Act was passed which makes it illegal to stop somebody from voting because of his or her race. With a history of our ancestors fighting for our community to be treated with equality, it makes sense for younger generations to want their voices to be heard.
The midterm elections are coming up next month, and it is very crucial for young adults to make their voices heard, especially African Americans who often make up a small percentage of total voters.
Throughout campus, everyone has been making sure his or her fellow classmates are aware of how important it is to vote. Tables have been set outside of Williams Dining Hall, in front of dorms and students have been taking the initiative to register their peers.
For the first-time voters like myself, this is not only an important decision to make for myself, but it is also a decision that will affect millions around me. Every black person I have encountered has taken into consideration the importance of voting.
"To say black people do not vote is a lie. You can tell especially on an HBCU how important this university strives to make us aware of voting," said sophomore Camryn Thompson, visual arts major.    
So where did this misconception of black people not vote start?
In North Carolina, since the 2000s, voter registration for African Americans has increased by 51 percent according to Black Demographics. Since 2013, our community has had a higher voter turnout rate than white registered voters. In the 2008 and 2012 presidential elections, black voters came out in extreme numbers.
"African Americans took the election of Former President Barack Obama serious," said Kaya Ellis, freshman business management student.
HBCUs like N.C. A&T are encouraging students to get out and vote on or before election day. With the turnout of the 2016 presidential election, there have been many conversations in the black community about why voting is so important. It has been proven that inaction will be used against the people
"Black people are taking voting serious now since they see what can happen if not used," said Nolan Martino, freshman business student.
There has always been this lie that people don't vote. I personally believe that African Americans do vote. Not all but many do vote and to categorize all black people is not right. For the part of the black community that doesn't vote, I believe it's because of the history and pain it took to be able to vote. The misconception that African Americans don't vote is not true.