Whats on your ballot?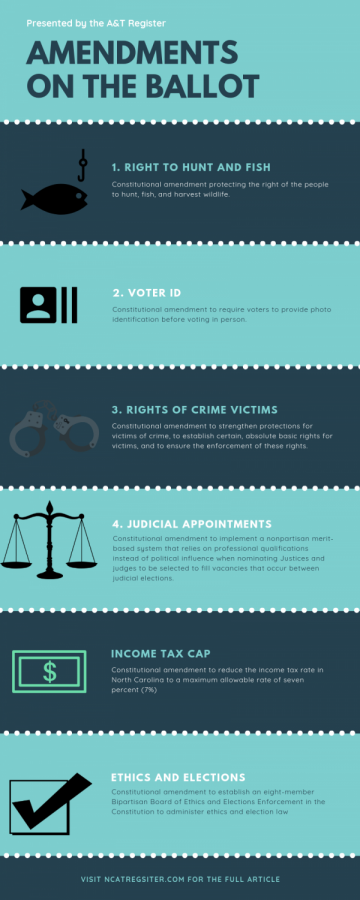 Peyton Forte, Contributor
October 19, 2018
Midterm elections are a little less than a month away, and your vote is more important than ever. We've all been urged to register to vote, but why should we care about elections outside of the Presidential race?
To begin, midterms decide who will serve in the House of Representatives and run state and local offices for the next two years. The next time you drive by one of those "vote for…" signs in someone's front yard, know those people may be in charge of your community's schools, jails or courts.
In addition to these measures, you will also have the option of voting for or against six proposals known as Constitutional Amendments. These amendments have stirred up some controversy for complicated wording and confusion as to how lawmakers plan to implement them.
N.C. Governor Roy Cooper (D) will urge voters to oppose all six amendments, according to The Virginian-Pilot.
If you're voting this November, it is essential for you to know what these amendments are saying and the potential impact they may have for all of North Carolina.
RIGHT TO HUNT AND FISH
"Constitutional amendment protecting the right of the people to hunt, fish, and harvest wildlife."
What it means: This amendment creates a constitutional right to hunt and fish. However, this is already a right of North Carolinians with no known threats. The amendment fails to clarify are the potential unintended safety hazards that could arise from it being passed.
VOTER ID
"Constitutional amendment to require voters to provide photo identification before voting in person."
What it means: This amendment will require a photo ID to vote, but it does not specify what types of IDs are acceptable. Meaning, if you plan on using your Aggie OneCard or out-of-state driver's license as identification, you may be turned away. A number of NC residents, primarily people with disabilities, people with low incomes, senior citizens and people of color, do not have access to a photo ID. The NC Budget and Tax Center also reports that this proposal could cost taxpayers over $12 million to implement due to staff and educational expenses.
RIGHTS OF CRIME VICTIMS
"Constitutional amendment to strengthen protections for victims of crime, to establish certain, absolute basic rights for victims, and to ensure the enforcement of these rights."
What it means: This amendment would protect the rights of crime victims. The NC Constitution already has protections in place for crime victims and it is unclear how this amendment would be executed. Its implementation would cost around $30.5 million a year for additional prosecutors, according to an estimate from the  NC Administrative Office of the Courts.
JUDICIAL APPOINTMENTS
"Constitutional amendment to implement a nonpartisan merit-based system that relies on professional qualifications instead of political influence when nominating Justices and judges to be selected to fill vacancies that occur between judicial elections."
What it means: This amendment revokes the governor's power to appoint judges when there are vacancies. NC Legislature would have the option to appoint their own party members to vacant positions, threatening the maintenance of an independent and impartial court.
INCOME TAX CAP
"Constitutional amendment to reduce the income tax rate in North Carolina to a maximum allowable rate of seven percent (7%)."
What it means: This amendment will lower the state income tax from 10 to seven percent for NC taxpayers. Unfortunately, in the event of an emergency or recession, sales tax rates will spike and all taxpayers would have to bear the burden. It also threatens the ability of the state to fund important infrastructure projects like constructing highways and schools.
ETHICS AND ELECTIONS
"Constitutional amendment to establish an eight-member Bipartisan Board of Ethics and Elections Enforcement in the Constitution to administer ethics and election law."
What it means: This amendment transfers power from Governor to NC Legislature to make appointments to the Board. It also seeks to reduce the number of board members from nine to eight, increasing the likelihood of having gridlocks (difficulty passing laws) on important issues.
For out-of-state students, this election season is just as important. Consider how these amendments could potentially make their way to a county near you, and these same issues could be voted on in a variety of states.
As the newest generation of voters, it's up to us to set the precedent for how we would like our state to run and who we want to lead. Of course, voting is important, but it's equally important to know what and who you're voting for.