Kevin Hart: New Marriage, Movie, and Mogul
Patrick Battle
October 8, 2016
Filed under theSCENE
Hang on for a minute...we're trying to find some more stories you might like.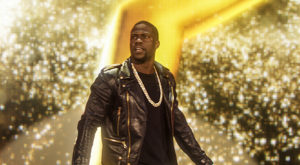 By Patrick Battle 
Scene Editor
Kevin Hart has reached iconic status with his recent endeavors in the industry. While maintaining a prosperous career in comedy, Hart has been able to step into ownership and new platforms. Forbes released an article last month stating that Kevin Hart is now officially ranked as the highest-paid comedian in show business earning a reported 87.5 million dollars between June 1, 2015 and June 1, 2016 dethroning Jerry Seinfeld.
He stands as the founder and CEO of the company "HartBeat Productions," which is an entertainment company that produces film, TV, live shows, and digital entertainment for distribution across all platforms. Hart turned over a new leaf when he began to take fitness seriously. His dedication and love for being fit resulted in him partnering with Nike as an athlete to get his own shoe called "Hustle Hart" cross-trainers, which were released in April. Nike also released another shoe under his name titled "Instinct Hart" that have quotes from Kevin Hart over the shoe. Hart has also been recognized for his hard work in fitness by making the cover of Men's Health magazine.
In June, Kevin Hart stooped by the Breakfast Club to promote his movie with Dwayne Johnson called 'Central Intelligence.' In the interview, he spoke more about his upcoming engagements. The interview began on the topic of his then fiancé Eniko Parrish. After dating for seven years, Hart and Parrish were wedded on August 13th. He went on to speak about his trainer, his partnership with Nike, a new network that he plans to launch, and his new movie "What Now?".
Kevin Hart's "What Now?" stadium tour grossed a majority of the 87.5-million dollars he made last year. In its first month, the tour sold over 60,000 tickets to equal up to about 35 million dollars. He has been heavily promoting the highly-anticipated movie that's coming out. This heavy promotion includes an upcoming album from his alter ego "Chocolate Droppa." A release date has not been set. However, Droppa appeared on one of the cyphers on the BET Hip-hop Awards alongside Lil Wayne.
Kevin Hart has officially put a stamp on the game with his moves. He currently has a net worth of $128 million, which is soaring over any competition that he may have. 'What Now?' is scheduled to be released in the US on October 14th.
The link to Kevin Hart's breakfast club interview and his new shoes are below:
https://www.youtube.com/watch?v=Yq_bPAq72S4
http://news.nike.com/news/tap-into-kevin-hart-s-training-instincts