OSA kicks off summer with cookout
Hang on for a minute...we're trying to find some more stories you might like.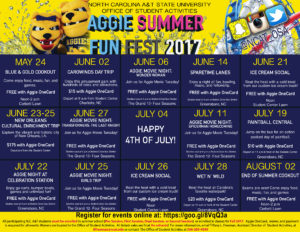 By Cameron Ferguson, Shelby Graham & Zakiyyah Williamston
Contributors
The annual Blue and Gold Cookout was held in Moore Gym by the Office of Student Activities at North Carolina A&T on Wednesday, May 24.
Students joined faculty and staff for the event, which included a meal and games available for the students to take part in such as Connect Four and corn hole. OSA created an inviting environment for the students by providing music in the background.
Several students were interviewed and gave their opinions on the cookout itself and their experiences with summer classes. Below are their responses.
Rising senior Andricka Oliver said, "The cookout last year was very similar to this year as far as the layout. It was in the same location and what not. As far as the food, there is sort of a difference this year there is more variety of food to choose from."
The food provided included a choice of a hotdog and hamburger combination plate or fried fish. Sides included baked beans or vegetarian baked beans, coleslaw, chips, cookies, and rice crispy treats.
Several students thought summer classes were better than traditional fall or spring classes.
"I think that summer classes are worse than regular semester classes, because summer classes create a more relaxed environment," Darryl Scott said. "Classwork is not really retained well because of the fact that the classes move at a more relaxed pace compared to academic semester is 6 months for one class."
Xavier Griffin said he agreed. "You have more time for your studies. Like for me, I play football so, to be in my books, I have less time during the semester. During the summer time, I'm pretty much free all day for my studies."
Scott said, "I think it's easier during the regular semester to be involved in things because you have a bigger audience and a bigger crowd to engage and try to get on your side for whatever you're trying to do."
OSA has weekly activities planned such as movies and bowling, and trips to Carowinds and New Orleans.
Angel Grady said of the events, "I love it, because you get that family sense and the people are friendly."
OSA events and information can be found online at http://www.ncat.edu/student-affairs/student-services/student-activities/calendar/summer-activities/index.html