Aggie Alumni: Where Are They Now?
Brodrick Williams
November 8, 2017
Filed under theSCENE
Hang on for a minute...we're trying to find some more stories you might like.
Shelby Ivey Christie, Class of 2015, Digital Sales Planner, Vogue.
How has N.C. A&T prepared you for the corporate world?
A&T definitely taught me how to find the answers I needed, rather than waiting for someone to give the information to me. A majority of my role entails locating information & piecing it together like a puzzle in order to find a solution. So yea, the A&T Financial Aid Office is notoriously difficult to navigate but having those kinds of experiences where I had to be the one who knew the information, had all the materials & came overly prepared really groomed me for corporate structure. A&T taught me how to get about 80% of the way on my own and only have to consult with someone for the last 20%. That skill is vital to my current role. Unlike our counterparts, HBCU students don't always have the luxury of "hand holding". So all of the calling around to RHA or fussing with Financial Aid pays off in the end lol!
What is it like being a minority woman working for Vogue?
It's empowering. I don't see it as being a "minority" in my workplace, rather I see it as having the privilege of being a representative. Since I am the only black woman on the business team at Vogue, I have the opportunity to bring my unique experience as a Black woman to the team and enrich it with a little #BlackGirlMagic. It can be difficult at times & more apparent at times than others: When I change my hair, I have to explain it or discuss it at least 5 times lol But that's also empowering too. I'm in space with people who may not spend much time in a Black community or interact with Black people in their private lives, so if I'm going to be the one they interact with I get to show them all the wonderful qualities & creativity we have. I get to set a bit of a standard. I take pride in that.
What advice would you give students who plan to work for an editorial company?
When your mom told you that you'd need to work twice as hard to get half as much she wasn't lying. It isn't fair but it's a reality you should get acquainted with now. Don't get caught in office gossip or drama. Editorial offices are alight with industry gossip as they work closely with celebs & are an arm of the entertainment industry themselves. Stay out of it & do your work. A great policy to adhere to is: leave it better than you found it. This means anything you touch should be significantly improved once you've handled it. Improve a process that's not really working for your team, put a new policy in place, find a more efficient way of doing a task.
What are your duties and responsibilities at Vogue?
I am Digital Sales Planner at Vogue. My role entails working alongside the Digital Account Manager & Campaign Manager to build plans for our advertising clients. Our brands come to us and they say here's our budget, here's our campaign, here's our target audience, here are our goals…What would be the best way to digitally advertise with Vogue? So we build them a digital media plan. We decide if Vogue's Snapchat or Vogue's Facebook would be best. Would Vogue.com perform better for them? If so, where on Vogue.com? How many people would we reach if we put X amount of the budget into Snapchat vs Facebook? What major events, like The Met, can we align them with? These are all things I explore in my role when building a plan. I also see my campaigns through contract signage, set up and on through to launch. I often times help measure the campaign to see how it's progressing.
What accomplishments are you most proud of so far while working at Vogue?
In light of leaving things better than I found them, I've implemented a Digital Newsletter for our team. Vogue is maybe one of the only publications that still sells more print ads than digital ads. So, many of our Salespeople are still very print focused. I wanted to open up more of a conversation around digital since that is the direction editorial & advertising is moving in. I thought an E-newsletter was the best way to do that. I include digital industry news, cool digital activations & updates on Vogue's digital business. The second initiative is again a leave it better than I found it one. I brought an idea to my Manager to start seeking out more multicultural brands to advertise with us. We see Estee Launder and Chanel ads in Vogue, why not the Bevel ads & Carol's Daughter ads? This is a long-term project my Manager has empowered me to go after. So I am beginning to meet with multicultural based businesses about advertising opportunities with Vogue. I am super proud to be in a position where I can help black-owned & minority-led businesses gain more visibility & hopefully increase revenue.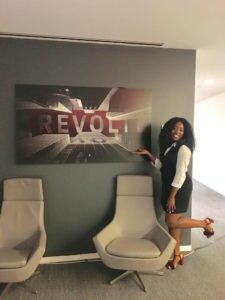 Alannah Covington, Class of 2016, Executive Assistant, Revolt TV
How has N.C. A&T prepared you for the corporate world?
N.C. A&T has prepared me in numerous ways. (1) Knowing how to create and execute, which is very important in the workplace. Always remember that ideas will turn into dreams if you can't go into the workplace and communicate your idea effectively. (2) Professionalism. Being a professional seems common but it's actually very rare. NC A&T has instilled in me to always be myself but knowing how to remain a professional while doing so.
What are the duties and responsibilities of an executive assistant at Revolt TV?
Being an "EA" entails a lot, because it is being what my Executive Vice President calls a "right hand", but I've been super blessed with a team that allows me to tap into my creative ability and work on research projects, on the events and festival, marketing and content distribution team with other Vice Presidents in the company, going to executive meetings with my EVP and taking notes that he didn't catch, traveling with my EVP and attending conferences, and of course managing his schedule and expense reports. I don't think I've included everything, but that's the gist of my job!
What advice would you give students who plan to work in entertainment?
If you want to start a career within the entertain realm, being patient with the process; understand that you have to be relentless because you will find a "yes" in a world of "no's", sleeping isn't an option (Mr. Combs reminds us that "Tired rhymes with Fired") and you always have to be aware of changes!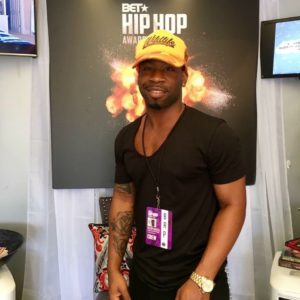 Gitory Bartell, Class of 2014, Freelance Producer,
What are the pros and cons of working behind the scene?
Some pros of working behind the scenes are the chance to be able to dibble and dabble in different areas of production and be able to see how things work like stage layout, renders (basically a layout of what areas will be shown on camera) tech vans (where are the graphics and TelePrompTer is ran.
Con would be everyone may not be as friendly because behind the scenes is the real deal, everyone takes pride in the piece of work that they do. So it's normal here "Move out the way" or "shut up, we're live". To a person that's been working in production that may be normal, but to a newcomer, it could be a bit intimidating.
Also, the hours can be very long! You'll get a call time to start but you may never know what that wrap time will be.
How is life as a freelance producer? Is it better than being a full-time producer?
I'd actually prefer to be employed by media production company full time than being freelance. There's nothing like job security, stability, and benefits! I'm saying all that to say, as a freelancer, I sometimes have to search and start applying for another gig because I know the one I'm currently on will be ending soon. Opposed to being full time you'll already know what's coming next and you don't have to worry about breaks and weeks without income.
What was your favorite project you've worked on so far?
My favorite Project that I worked on so far has to be Jermaine Dupri's Show "The Rap Game" that comes on Lifetime. Seeing those kids chase their dreams and do something they love was such a great thing to witness.
How has N.C. A&T prepared you for the corporate world?
NCAT has impacted me in so many ways. Being that production is not so formal or corporate. I still took it upon myself to attend different panels with an executive to learn how to communicate better and present myself in a corporate setting. No matter what career path you're in you should always take a great amount of professionalism with you. NCAT and Crosby Hall made offered that a lot of the time and I took full advantage.
What advice would you give students who plan to work as a producer?
The advice I would give to others would be to stay grounded, NETWORK!!!, and work hard. You can research different production positions and see which fits you best but, the best thing you can do is get that foot in the door to actually see what that position entails. Also, don't be afraid to take a step that'll get your foot in the door or that media, television/film, or radio company.
Be patient, but be ready!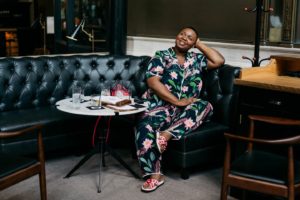 Kourtney Pope, Class of 2016, Customer Experience & Social Specialist, Eloquii
How has N.C. A&T prepared you for the corporate world?
I think N.C. A&T prepared me for the corporate world by nurturing my entrepreneurial spirit. Networking was key on campus! You could find some of the brightest of talent in various departments. Community and networking are the main components for success outside of the classroom. You can have an amazing idea and potentially team up with someone from McNair or Barnes to bring it to life.
What advice would you give students who plan to work for an editorial company?
My first words of advice to anyone planning to work in the editorial field would be to find the next major city near you and get as much experience under your belt as possible. For me, that meant New York. I had no family and did not know a soul, but I knew I had to make it happens. Secondly, get out of your feelings or whatever it is you think you are entitled to and realize some of these opportunities are non-paying. However, the experiences, skill sets learned, and overall name value makes it worthwhile. Lastly, the internet is free to make something of it! If you are not able to find an internship due to lack of experience, self-publishing is always an option. Take the time to find your angle, put together a free website, buy your domain, and get to writing!
What are your duties and responsibilities?
My duties and responsibilities vary from week to week depending on what special projects I am assigned. However, in general, I oversee community management for our social media platforms, produce content for Facebook and Instagram, influencer relations, events, and escalated customer facing issues.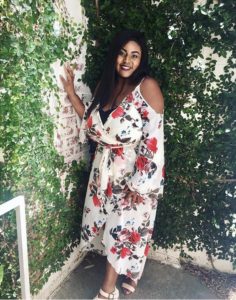 Niyah Brooks, Class of 2017, Ketchum PR Agency
How has N.C. A&T prepared you for the corporate world and what have your professors instilled in you?
It prepared me to work harder & to be comfortable with who I am as a person. Being that corporate environments are usually not diverse, I was able to tap into my network of peers that I met at A&T top help me cope with work struggles that POC typically face. Professors at N.C. A&T have been mentors for me in this field, and they were very candid about that transition to the workplace. They've also been championing for my success, which has been inspirational. The network from the Aggie Family has been unmatched.
What advice would you give students at N.C. A&T who wants to work for a PR/marketing agency after graduation?
I strongly recommend that any students who want to work in an agency post graduation to get gain agency experience through internships, regardless of the size of the agency. Also, be sure to create a network of people who work in agencies. They are usually willing to give advice on which measures you should take to prepare for agency life. They will also be able to vouch for you, during the interview process. If you're unable to get agency experience during college, I would recommend doing an internship the summer after graduation. Although it isn't ideal, I know many agencies will not hire you without that experience.
Why Public Relations? What inspired you the most about Public Relations?
I chose to work in Public Relations because of how broad it is. As a child, I had a great love for Oprah. After discovering that she majored in Communications in college, I decided to do the same. At first, I was unsure of which concentration to chose, but after looking into different careers in the Communications field I felt that Public Relations was the best fit. It can be applied to any company imaginable.
I am inspired by Public Relations to be representation for people of color. The field isn't diverse, and that is why you see some culturally insensitive campaigns come to fruition. I hope to create a pipeline for other people of color, so we can have a larger voice in how brands communicate with us.