The modern woman vs. Proverbs 31 by: Elaijah Gibbs-Jones
Elaijah Gibbs-Jones
Today's society is composed of a myriad of occupations and industries that are dominated by women. However, despite the immense amount of hard work women contribute to the world, we are still expected to be subservient to our male counterparts. According to the United States Department of Labor, "Women own close to 10 million businesses, accounting for $1.4 trillion in receipts." However, due to the scripture of Proverbs 31 in the Christian bible, some men and women often believe that a woman's only purpose is to serve her family. "She brings him good, not harm, all the days of her life…. She is like the merchant ships, bringing her food from afar. She gets up while it is still night; she provides food for her family and portions for her female servants," the scripture says. "She considers a field and buys it; out of her earnings she plants a vineyard. She sets about her work vigorously; her arms are strong for her tasks. He sees that her trading is profitable, and her lamp does not go out at night… She opens her arms to the poor and extends her hands to the needy." Most women pass this value system along to their daughters, which results in more generations of subservient women. For example, in the recent air of television show "Black-ish," Rainbow (Tracee Ellis Ross) is challenged by her mother as she fixes Andre's (Anthony Anderson) plate of food during Easter dinner. Rainbow is shamed by her mother which forces Andre to make his own plate. She also tells her daughter, Diane (Marsai Martin) not to make a plate for her brother Jack (Miles Brown). Ultimately, after the family's constant debation, Rainbow's grandmother explained to them all why it was important for women, especially black women, to serve their husband or male counterpart. She told them since black men have to face their manhood being stripped away everyday in the world, it is his wife's duty to re-establish in his home what was robbed by society. While this may be a valid point, it does not eliminate the fact that women can be more than servants to their families. Black women are facing demonization by the public. Aren't we entitled to preserving our "womanhood"? The stereotype that requires women to act as housemaids, perfect angels and superhuman is unrealistic. As a black Christian woman, I disagree with the scripture. I feel that times have changed, and the definition of a "christian woman" is evolving. In a relationship, whether heterosexual or homosexual, it should be a fair game. Partners should love, care for and support one another on a 50/50 basis. If it is equal, then no one can say that the other puts in more effort than the other. Modern Christianity plays a huge role in this. Men serving their wives should be normalized the same way women picking up the check on dates is. If you both are worshipping, praying and serving God, is there really be a problem? Just as the Black-ish episode portrayed women serving their male counterpart in a positive light, not serving him should also be deemed acceptable. Proverbs 31 outlines what the woman should do, but it can also be a suggestion of how a man should aid in any way possible. Take time and think about if your partner is doing it all, then provide them with the help they may need to balance the playing field.
About the Writer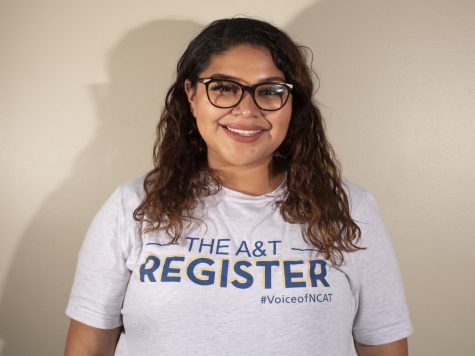 Zila Sanchez, Editor-in-Chief
Senior journalism and mass communication student with a concentration in multimedia journalism.