The rise of Alexandria Ocasio-Cortez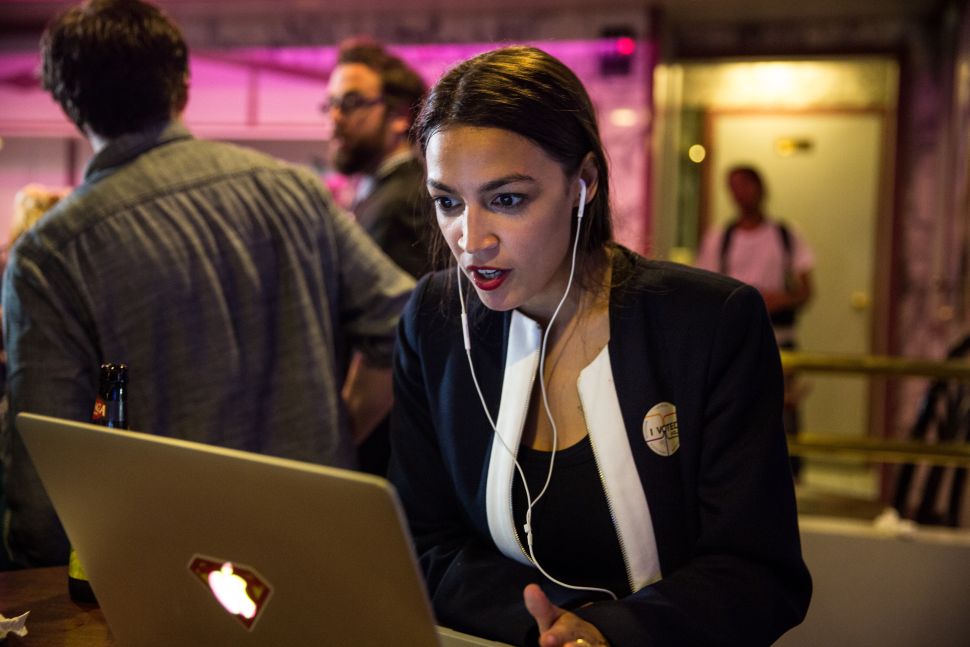 Brittany Van Pelt
June 29, 2018
A shocking upset
The surprising victory of Alexandria Ocasio-Cortez, a relatively unknown progressive organizer over a seasoned politician and fourth-ranking House Democrat Joe Crowley in the New York 14th's district primary shocked many.
Crowley, who was seen as a potential successor to House Democratic leader Nancy Pelosi, had overspent Ocasio-Cortez 10-1 and received backing from many top-ranked Democrats throughout his campaign.
Ocasio-Cortez won 57.5 to 42.5 percent of the vote which was shocking considering she trailed Crowley 36 points just three weeks before the primaries. Much of her success is credited to her grassroots efforts through social media campaigns and the mobilization of young people to vote in an off-year election.
"People try to identify who's the most likely person to turn out and what we did is we changed who turns out," Ocasio-Cortez said
Who is Alexandria Ocasio-Cortez?
Ocasio-Cortez was born and raised in a working-class South Bronx family. She attended Boston University where she worked under Sen. Ted Kennedy. After she graduated, she returned home where she became an organizer whilst being a waitress to help support her family.
During the 2016 presidential election, Ocasio-Cortez worked on the Bernie Sanders campaign. She launched her own campaign last year receiving endorsements from a variety of groups including Democracy for America and the New York City Democratic Socialists of America.
The self-proclaimed "democratic socialist" is politically coming of age during a time where many millennials are disinterested in politics, reports USA Today.
Her remarkable thrust into the national political stage will most likely make her the youngest member of Congress, at 28-years-old, come 2019. Her platform resonated with many of the working-class minorities that make-up the district she ran in.
"I believe that in a modern, moral, and wealthy society, no person in America should be too poor to live," Ocasio-Cortez said.
If elected to the Senate, Ocasio-Cortez's calls for legislative policies that is unabashedly progressive with topics such as total renewable energy system by 2035 and the abolition of Immigration and Customs Enforcement (ICE).
The Democrat's civil war
It has been no secret that there has been civil war factions brewing in both parties for years. Ocasio-Cortez's victory helps to ignite the idea of the younger Democrats wanting to abruptly shift towards the left after years in a moderate neutral zone.
House Minority Leader, Nancy Pelosi came under fire after Ocasio-Cortez's victory when her statement was seen to some as a lack of party unity.
"They made a choice in one district," Pelosi said. So, let's not get yourself carried away on demographics and the rest of that.
Pelosi has stated that if Democrats take over the house in November she has all intentions of running for House Speaker. Over 20 party candidates have stated that they would not support her if she does.
Pelosi has faced much criticism in the past from members in her party about her refusal to welcome in younger or newer members into the Democratic leadership. This has caused much controversy considering Pelosi, as well as Jim Clyburn and Steny Hoyer, are all over the age of 75.
A new face for the Democratic Party?
If anything Ocasio-Cortez's victory highlights the very clear fracture between sectors within her party. She is not only the voice but the face of the young and frustrated portion of the Democratic Party that is sick of putting establishment above the will of the people.
Ocasio-Cortez is a name that will continue to be on many's minds not just with the midterm election, but as a new generational shift bestows the Democrats. She is a prime representation of not only today's youth, but what they stand for as well.
Ocasio-Cortez's authenticity and refusal to shun her beliefs ultimately was why she won her primary. Her policy and ideology, even though it is considered extremely liberal, represents the best hopes of what a diverse America could be.