A&T teams up with the IRC to tackle Hunger and Homelessness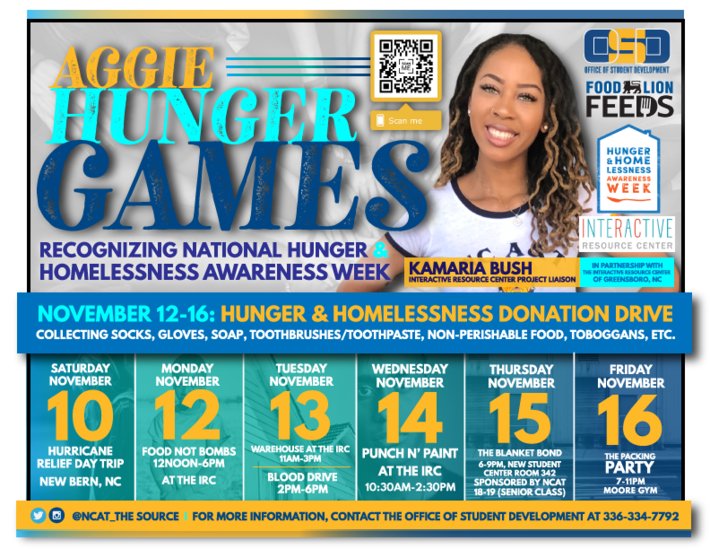 Marisa Comer, Lead Reporter
November 13, 2018
This week, November 12-16, is National Hunger and Homelessness Awareness week and North Carolina A&T has joined with the Interactive Resource Center (IRC) to tackle both issues.
National Hunger and Homelessness Awareness Week is an annual coalition where people from all over the country come together to bring attention to this matter and work to solve the problem.
Kamaria Bush, a senior biology student and a volunteer at the IRC,  currently serves as the project liaison for this week of events. She has helped bring together the Aggies with the IRC and develop a week of activities that will educate and connect students to a problem that doesn't occur far from campus.
"Greensboro is a food desert, meaning there aren't very close places with nutritious foods. A place is qualified as a food desert when you can't get fresh foods within a mile," explains Bush.
"Greensboro is the number one city in North Carolina and ninth city in the nation with the highest eviction rates. Highest eviction rates lead to people being homeless, so it's a big issue."
Due to these prominent issues in Greensboro, North Carolina A&T and the IRC have teamed up to create a week of events for students to be involved in.
Lena Vann, a business administration student and also Miss Freshman for the 2018-2019 school year, is one of the members working alongside Bush for this event.
"So the purpose of the donation drive is to raise items not only for our Aggie Source, which will be a food and clothing pantry for students here on campus but also raise items for those who were affected by the recent hurricane," Vann elaborates. "It's a partnership with the OSC, the IRC, and Food Lion Feeds."
Monday through Friday will be an "Aggie Hunger Games" donation drive where residence halls are split into districts and each will be responsible for raising a certain number of items.
Along with the Donation Drive, events have been set up for every day this week. These events will allow A&T students to be educated on the issues that can occur in everyday life.  
Monday was "Food Not Bombs," where students got to prepare and serve food to guests at the IRC. This is an event that takes place every Monday at the center, but this time, everyone preparing and serving were Aggies.
Tuesday is the day where students get to organize items donated to the IRC. There will also be a blood drive later in the day.
Wednesday is the "Punch n' Paint," which is also taking place at the IRC. This will be a great way for students to interact with the IRC population and a chance for each group to learn about one another.
On Thursday, the senior class will be hosting "The Blanket Bond" in the New Student Center. Students will be making and donating blankets, along with filling the blankets with encouraging notes. They will be presented to the center at the following event on Friday, known as The Packing Party, where volunteers will take the donations from the "Aggie Hunger Games" donation drive and will organize and sort the hygiene items into packs. The Packing Party will be the final event to a week filled with activities.
"The whole thing is very important to me," says Bush. "It has normalized a population that is neglected in society. That systematic oppression and other outside factors that they can't control has led them to these circumstances."
Bush hopes that working with the IRC will move students as much as it has moved her.
About the Writer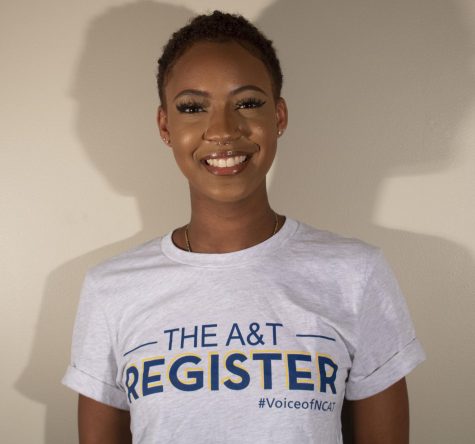 Marisa Comer, theCULTURE Multimedia Assistant
Junior journalism and mass communication student with a concentration in multimedia journalism.