Back to Back: DJ Lean wins DJ Battle second year in a row
The first few weeks of the new school year have been filled with nothing but fun, and it has not stopped yet. The Office of Student Activities and Campus Involvement (OSA) hosted its annual DJ & Host Battle, and it was one for the books. 
The event took place last Tuesday. Student hosts paired up with student DJs to compete in a battle to answer one question: Who had the most crowd control?
The competition was played in a knock-out style. Going two at a time, each DJ and host competed one at a time mixing songs from the chosen category. The audience served as the judge, giving the most applause to the winner of their choice. 
Junior Business Management student Khursten McLean, also known as DJ Lean, won the DJ & Host Battle last year. McLean is familiar with what it is like to win on this stage and almost considered sitting this year out.
"I wasn't considering doing it this year after winning last year," McLean said. "Last year was my break-out and I wanted other people to get their shine; people like MD3, who's been putting in work since freshman year."
DJ MD3 is the stage name for senior civil engineering major Marion Davis III. Davis is also a very well known DJ on N.C. A&T's campus. He spoke about why this event is important for him and other DJs and hosts.
"I think we all look forward to this because we can connect with more groups and organizations on campus," Davis said. "Personally, I can work on my song selections for future battles that may help me to do better in future events."
It was made clear that the three keys to success were song selection, transitions, and crowd engagement.
"With certain songs, you know people are going to sing and dance," said host and senior business marketing major Rhushaun Holley, also known as Lil Obeezy. "It's our job to make sure they feel as comfortable as possible to do it."
This year the battle took place in Harrison Auditorium, which is different from last year, when it took place outside at the Academic Quad. Students expressed how they felt about the change of location.
"Tickets were sold out, so I thought they were going to move it to Corbett," sophomore education student Sherelle King said."I actually did prefer having it outside."
The first round of the DJ & Host Battle were head to head matchups between all eight contestants: DJ Iso and Lil Obeezy vs. DJ MD3 and Kayla Nichole; DJ Kitty vs. DJ Aux; DJ Z-Man vs. DJ Jaiboogie; and DJ Kosher and Milligan vs. DJ Lean and Michael Cartwright. 
After tricky categories to follow and a tough student body serving as a crowd, the winners of round one were DJ MD3 and Kayla Nichole, DJ Aux, DJ Z-Man, and DJ Lean and Micahel Cartwright. 
Round two consisted of two head to head battles to determine the finalists. The R&B themed preliminary battle between DJ MD3 and Kayla Nichole and DJ Aux was close, but DJ MD3 and Kayla Nichole came out on top.
MaKayla Harris (KaylaNichole), a junior mechanical engineering student, and Gabrielle Cain (DJ Kitty), a senior liberal studies major, were the only women competing in their respective positions. 
"When I found out I was the only girl host it made me less nervous," Harris said. "I'm gonna turn the females up, as I should."
Not only was DJ Kitty the only woman DJ, but she also competed without a host.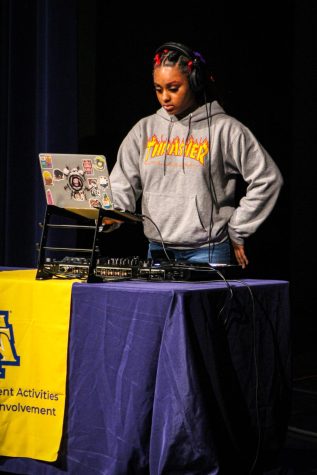 "I have a lot of experience without a host, so it really just depends on the music selection," Cain said. "Honestly if I had another category, like 'cookout,' I would have done a lot better, but I'm not mad at it."
The championship round was between DJ Lean and Michael Cartwright and DJ MD3 and Kayla Nichole, the category being "Take 'em to Church". This crowd was fired up for this category, singing and dancing to gospel classics.  
DJ Lean was crowned the winner after ending with the song "In The Sanctuary" by the Kurt Carr Singers, which had the crowd on their feet, ending the battle in high spirits. 
"You gotta start with God and finish with God," McLean said.