The winner of this year's Aggie and the Bee was extremely "effusive" when AirPod pros were announced as the prize. The spelling competition took place yesterday in the Deese Ballroom.
"Effusive", meaning to express gratitude in an enthusiastic way, was one of the many words participants had to correctly spell in order to move on in the competition.
This was an SUAB hosted event, and students have been looking forward to it for weeks.
"I heard about it through instagram," freshman marketing student Asha McKinzy said. "It made me want to come because their events are always so fun. I also really like spelling."
Other students needed a break from working and just wanted to have some fun.
"I came because it's something to get my mind off of schoolwork and I knew it would be very entertaining," freshman business management student Charisma Wardlaw said.
Hezekiah Mercer, SUAB intern and sophomore business administration student, talked about how this event came to be.
"We find something fun and interactive for the student body to do," Mercer said. "It's just another way to get everyone involved and networking."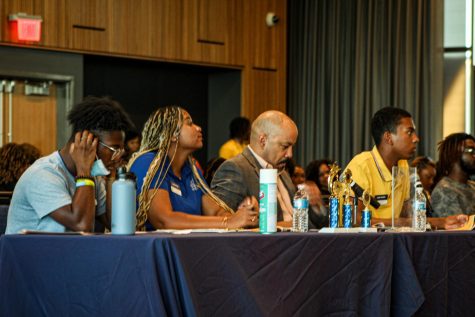 The contest started off with words that were rather easy to spell, then continued to get harder as time went on. If a student misspelled a word, then they were eliminated from the competition. Two spectators sat on both sides of the stage to prevent cheating.
Some of the words contestants had to spell were high level. Tigris McCauley, the runner-up and senior sociology student, told the A&T Register how she prepared.
"I looked up some words that were collegiate level," McCauley said. "I studied them and looked them over, especially the ones I had never seen before."
Junior journalism and mass communications student Kajuan Durer was initially deemed the winner of the spelling bee, but the judges realized they made a mistake with another contestant. 
Junior sociology student Ziora Ajeroh was eliminated after mistakenly being disqualified for misspelling "homogeneous". Judges caught the error and she was given the chance to be placed back in the competition if she could spell three words correctly in a row. Ajeroh was excited for this second chance.
"I was so happy to get a second chance because I really needed new headphones," Ajeroh said. 
Durer spoke about how he felt after having his crown taken away just shortly after being named the winner.
"I was a little shocked because I was really happy hearing I won," Durer said. "I heard they messed up the other contestant's word and that she actually spelled it right, so I knew she deserved a fair shot."
Ajeroh proved she is a top-notch speller, correctly spelling words like "ombudsman" and "nescent." Unfortunately, the word "germane" prevented her from advancing in the spelling bee as she was not able to spell all three words needed to get back in the competition.
Due to the fact Ajeroh was not able to spell all the words correctly, Durer was crowned the winner of Aggie and the Bee along with winning new Airpod Pros.