Recap: The Zeta Phi Beta Pageant
Seven Aggie men competed in the Zeta Phi Beta Pageant to see who would represent the Zeta Alpha chapter as Mr. Congeniality, Mr. Blue and White, Mr. 1920, Mr. Zeta Alpha and of course, Mr. Zeta Phi Beta.
The pageant featured students Gabriel Woodard, Hezekiah Mercer, Hezekiah Bryant, Joshua Parris, Jordan Taylor, Zavier Gatewood and Keyshawn Johnson.
The contestants were judged in the following categories:
-Opening Dance Number
-Introduction
-Talent
-Personality Fashion Show
-Q&A
With the theme of the pageant being Motown, it was only right the contestants began the night with a group dance to "My Girl" by the temptations. They performed the classic song dressed in silky blue button down shirts, flared pants and afros, leaving the crowd in awe.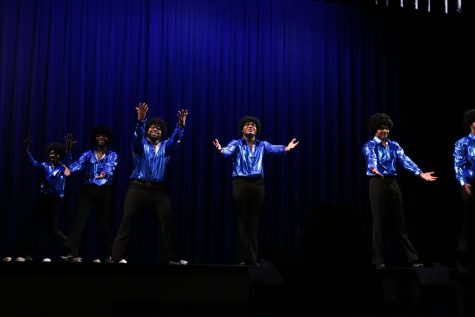 "We practiced four times a week," said Joshua Parris, sophomore liberal studies. "It was very slow paced at first, but as time progressed it definitely sped up."
The contestants then went on to introduce themselves, and after introductions was the talent category.
Junior journalism student and drum major of the Blue and Gold Marching Machine, Gabriel Woodard, stunned the crowd with his drum major routine.
Other notable performances were Parris' spoken word piece on being a Black man in America and Gatewood's recreation of the iconic drum battle from the movie Drumline, playing the parts of both bands on his own snare drum with the scene playing in the background.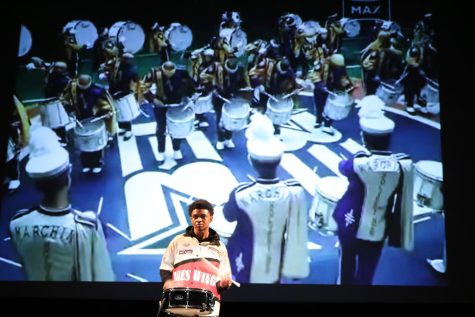 Following the talent section was the Personality Fashion Show, where contestants wore outfits that they felt embodied who they were. However, gasps were heard throughout the crowd when Woodard and Gatewood strutted down the auditorium aisle in the same suit.
"I was in shock, almost distraught because we hadn't discussed anything," Woodard said. "I found out two days before so there was no going back. I was afraid points would be deducted for not being original."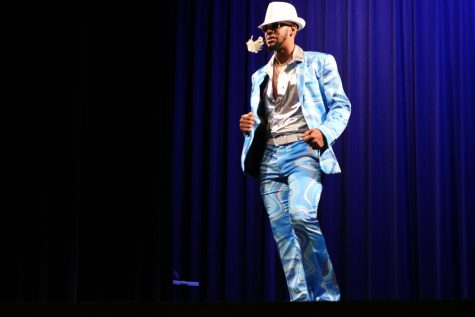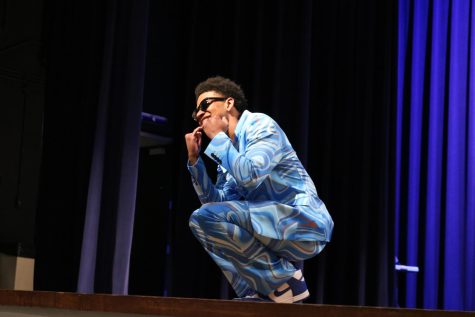 After the fashion show was a brief intermission, and students shared who they wanted to take home the crown.
"I'm rooting for contestant number two, Hezekiah Mercer," said sophomore visual media design student Eriana Harris. "He's my best friend so of course I came to support him."
After intermission, the Zeta Alpha chapter of Zeta Phi Beta Sorority, Inc. went on to crown the new Misses of the royal court.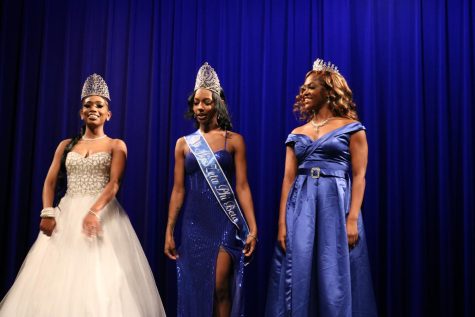 Afterwards, the contestants took to the stage for the Q&A section.
"I can turn a failure into a lesson, and a lesson into success," said Mercer after being asked how he plans to overcome defeat.
Finally, it was time to crown the Misters of the Zeta Phi Beta Pageant. Taylor was named Mr. Congeniality, Woodard was named Mr. 1920 and Parris was crowned as Mr. Zeta Phi Beta.
It was later revealed that there was a mistake between two of the runner ups. Initially, Mercer was crowned Mr. Blue and White and Johnson was crowned Mr. Zeta Alpha. However, Mercer later found out that he was actually Mr. Zeta Alpha and Johnson was Mr. Blue and White.
"I was proud of all of my pageant brothers because we came a long way," Mercer said. "No matter who won, we all wanted to achieve the same thing and that is to help our community and support the Zeta Alpha chapter of Zeta Phi Beta."
For Parris, winning Mr. Zeta Phi Beta was something that came at a perfect time.
"I really needed this win right now in my life," Parris said. "A year ago today I didn't think I could do anything like this. This experience was life changing for me."