MENtality: A conversation about men's mental health with Sterling K. Brown
"There's greater strength in vulnerability than there is in keeping up a wall."
This is one of the many things academy award winning actor and producer Sterling K. Brown said during the Chancellor's Speaker Series on Thursday. With the theme being "MENtality," Brown spoke to a sold out crowd on the topic of men's mental health. 
Brown is a three-time Emmy award winner, starring in NBC's "This is Us," Marvel's "Black Panther," Focus Features' "Honk for Jesus. Save Your Soul" and more.
The discussion was moderated by Aggie alumnus Ray Trapp, who is the vice president of strategic engagement for the Research Triangle Foundation (RTF). Before bringing out Brown, Trapp announced that he is seven months cancer free, drawing a large applause from the crowd.
Brown, 46, started the discussion by reflecting on how his mentality has changed from his 20s to now.
"The biggest difference is that I'm much more responsive than I am reactive," Brown said. "It's a subtle distinction in terms of the way you confront the world."
With the success Brown has had over the years, it is easy to think that acting was always his passion. However, he was an economics student before realizing acting was what he wanted to do professionally. 
He talked about how a lot of his mental strength comes from his faith, and it was not  until his mother said, "Go with God," that he made the decision to study drama and pursue acting.
Brown has made a name for himself in both the television and movie industry. He is mostly known for playing Randall Pearson in the NBC hit show "This is Us," which ended last year after six seasons. In the show, Randall openly struggles with mental health.
"Randall's a cryer," Pearson joked.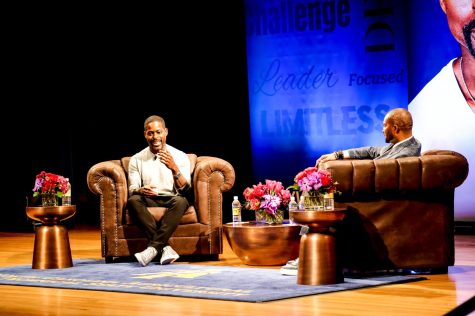 Brown's portrayal of Randall Pearson is not something that is often seen in media today. Randall is shown having panic attacks, taking medication and also attending therapy. These are all things that have yet to be normalized in the Black community. 
"You're not weak if you ask for help," Brown said. "It takes real strength to admit there's only so far I can go alone. I can go a little farther if someone helps me out."
Trapp and Brown also discussed the effect police brutality has on Black men's mental health, specifically the video of Tyre Nichols, who was killed in Memphis, TN by five police officers. Trapp asked the question, "How do we thrive in a system that is stacked against us?" Brown did not have an exact answer, but as a father of boys, he knows something has to be done.
"I don't want to raise my sons with naivety because I need them to come home," Brown said. "There can be a level of unconscious self-hatred."
With mental health being a popular topic on N.C. A&T's campus right now, this conversation came at a perfect time. Brown's words of wisdom resonated with many of the young men in the audience.
"As men, we're put in situations where we can't come forward with our emotions," said Chandler James, sophomore finance student. "I like how he emphasized that being vulnerable can help us achieve more."
The kind of success that Brown has can be a lot to deal with mentally. He emphasized how he tries to feed both his mind and spirit daily, saying that one feeds the other. He also tries to be one with the present in order to prevent the feeling of being overwhelmed.
"It's important to make the distinction between who you are and what you do," Brown said.