The Big Reveals: New Member Presentations
The highly anticipated New Member Presentations took place both Thursday and Friday in Corbett Sports Center. Students and alumni packed the stands to see who would be revealed in their respective Greek organizations.
Five organizations presented on both days. Day one was presentations for the following fraternities and sororities:
-Phi Mu Alpha Fraternity of America Inc.
-Kappa Kappa Psi Honorary Band Fraternity Inc.
-Tau Beta Sigma Honorary Band Sorority Inc.
-Omega Psi Phi Fraternity Inc.
-Zeta Phi Beta Sorority Inc.
Kicking off the New Member Presentations was the Iota Beta Chapter of Phi Mu Alpha. Many in the audience were surprised to see only one member on this line, sophomore health service management student Zailand Adams.
Adams started off the show strong, giving his all in his performance. It was easy to see that this moment meant a lot to him.
"It was definitely more of a personal character development moment," Adams said. "It was a chance for me to fully understand my strengths and weaknesses and see who I really am."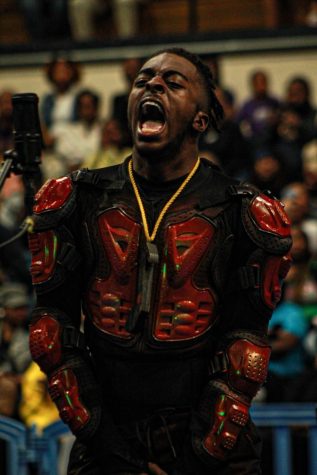 All eyes were on Adams and Adams only, as he had the whole stage to himself. What Adams did can be stressful for anyone, and this did not go unnoticed by the audience. Adams did not have anyone on line to feed off of, so he went off the energy of the audience. 
"I believe it was what people felt from watching me that made my performance what it was," Zailand said. "I do miss the opportunity to form a brotherhood with other young men, but I always have my loving brothers of the fraternity."
Following the Phi Mu Alpha presentation were two more band organizations. Kappa Kappa Psi welcomed 13 new initiates to their fraternity, the crowd erupting at the end when both the initiates and other members started strolling to "Poison" by Bell Biv Devoe. Tau Beta Sigma welcomed 14 young ladies, who were in perfect sync during their performance of  "I Just Wanna Rock" by artist Lil Uzi Vert.
To start off the presentations of the Divine 9 organizations was the Mu Psi Chapter of Omega Psi Phi. The new members came out in their Sunday's best, head toe in all white suits and gold boots.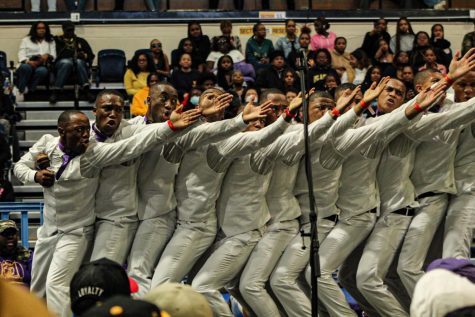 To close out the first day of presentations was the Zeta Alpha Chapter of Zeta Phi Beta Sorority Incorporated. The organization welcomed 36 initiates, all of whom gave very powerful introductions. 
The second day of New Member Presentations showcased the following fraternities and sororities:
-Iota Phi Theta Fraternity Inc.
-Sigma Gamma Rho Sorority Inc.
-Alpha Phi Alpha Fraternity Inc.
-Phi Beta Sigma Fraternity Inc. 
-Delta Sigma Theta Sorority Inc.
The Zeta Chapter of Iota Phi Theta Fraternity Incorporated was the first to present its new members, and like day one, there was only one new member to present. Senior criminal justice student Jayden Williams was the only one on line, but like Adams, he held it down solo, feeding off the energy from the audience.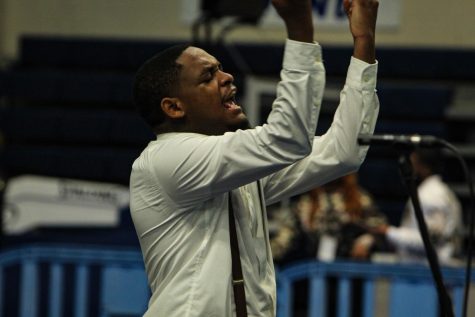 The Gamma Chapter of Sigma Gamma Rho welcomed an intake class of 13 young ladies. The audience cheered when all the Poodles ran to the floor to the song "Shake That Monkey".
"Seeing Gamma's new members filled my heart with joy," said biology student and SGRho member Nia Daley. "Continuing on the Glamorous Gamma legacy is always an exciting and heartfelt experience. The chapter is super proud of them."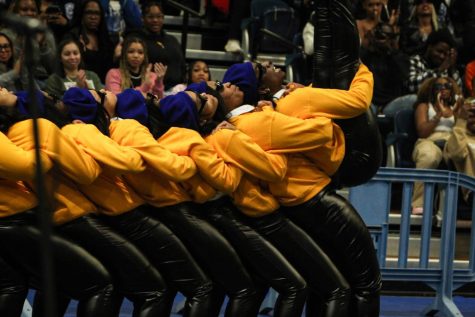 The Beta Epsilon Chapter of Alpha Phi Alpha welcomed 24 new members, a lot of which received shocking reactions from the crowd.
"I just wasn't expecting to see so many people that I knew," said junior psychology student Trinity Cherry-Brown. "It was so cool to see and I was really excited for them."
The Eta Chapter of Phi Beta Sigma's presentation was one to remember. The 24-member line was split into three groups, each one coming out separately. 
"When I was revealed alongside my brothers it was one of the best feelings," said atmospheric science and meteorology major and number eight on line Davion Huggins.  "Being a part of this group of men who look out for one another from the smallest things to major career and life decisions is unmatched."
The last presentation of the night brought a sea of red to the stadium floor. Sisters and sorors came together to witness the spring 2023 initiates of the Alpha Mu Chapter of Delta Sigma Theta Sorority Incorporated.
After not doing intake the previous year, the line comprised 65 new members. The Ace of this line is senior psychology student Elianis Usera.
"Being an Ace goes beyond the title," Usera said. "It's a characteristic trait that one embodies."
Usera loves the size of her line, as she is able to have one large support system.
"I learned and am still learning my sisters' personalities and love languages so that we can work together for the common goal. Great minds think alike, and when all of those minds are on one accord, anything is possible."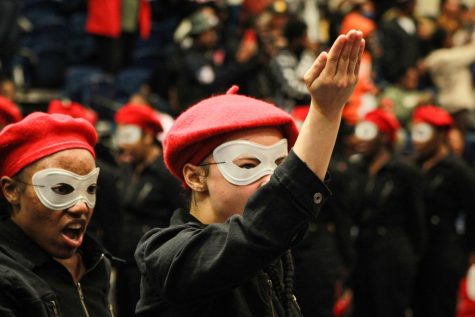 Follow @NCAT_FSE to keep up with upcoming Greek organization events.