NAACP Image Award-Winning actor Morris Chestnut and N.C. A&T Nathan F. Simms Distinguished Professor in the Department of Biology Robert H. Newman, Ph.D., will serve as keynote speakers for the spring 2023 commencement ceremonies.
In a statement released by Chancellor Harold L. Martin, he notes the impact the two speakers have on the communities around them and welcomes them as the university celebrates and honors the students' accomplishments.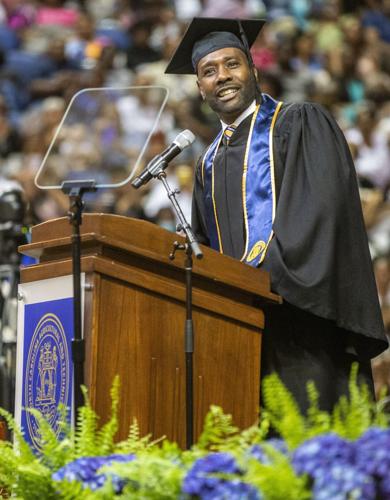 "Dr. Newman and Mr. Chestnut have made tremendously positive impacts in their professions and are all certain to inspire our Spring 2023 commencement audiences," Martin said. "We welcome the perspective they will share with our Aggie community as we celebrate the achievements of our newest Aggie graduates."
Dr. Newman will speak at the graduate student ceremony Friday, May 12, at 3 p.m. in the Novant Fieldhouse at the Greensboro Coliseum.
Chestnut will speak at both undergraduate baccalaureate student ceremonies in the Greensboro Coliseum Saturday, May 13 at 8:30 a.m. for the College of Agriculture and Environmental Sciences, College of Arts, Humanities and Social Sciences, Willie A. Deese School of Business and Economics, and the College of Education and at 3 p.m. for the College of Engineering, John R. and Kathy R. Hairston College of Health and Human Sciences and the College of Science and Technology.
Students, alum, and community members are overjoyed about the announcement of this year's Spring keynote speakers, including senior honors mechanical engineering student Logan Thomas.
Thomas, participating in the second undergraduate commencement ceremony, is most curious on what Chestnut will focus on since she only has seen him on the big screen.
"I know him mostly from his acting career, but I'm sure he'll be easily relatable to our Black students," Thomas said.

Nearly 1,500 undergraduate, over 300 masters, about 60 doctoral students, and about 50 students from the Joint Programs in Social Work with UNCG will be participating in this Springs commencement ceremony. The ceremonies will be livestreamed.