N.C. A&T hosts 31st annual NABJ short course
Students representing 14 universities across the country traveled to N.C. A&T last week to learn from leading Black journalism professionals. 
The Journalism and Mass Communications department hosted over 30 students for the 31st annual National Association of Black Journalists (NABJ) Multimedia short course last week.
This four-day intensive journalism workshop provides hands-on experience and practical guidance to students on what it takes to be a successful journalist. Students were assigned roles as anchors, reporters, producers, videographers, photographers, editors and more as they worked to produce online news in addition to a full hour long newscast production.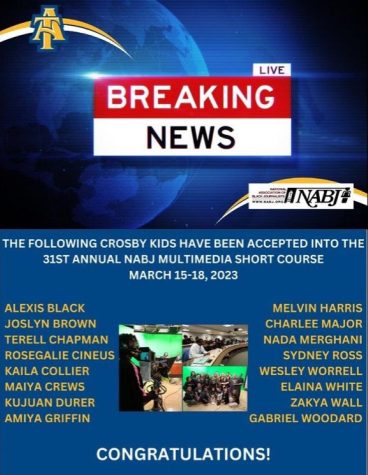 MeKiyla Brown, Alcorn State University junior mass communications student, is grateful to NABJ for putting this course together and for providing a space for other students that look like herself to have a "seat at the table."
"As a Black woman, when I think of NABJ, I think of endless opportunities," Brown said. "Being in a room with people that share the same passion as me and look like me is an experience like no other."
This year's NABJ lead instructor was Anthony Wilson, ABC WTVD-11 anchor and reporter, his 30th year participating. With over 10 workshops, Wilson welcomed participants and made closing remarks. 
Over 20 professionals were partnered with the students throughout the course of the program providing knowledge within their different areas of expertise. 
Terell Chapman, N.C. A&T senior mass media production student, is a two-time short course participant and says while it was intense, he always ends up enjoying everything that he gets out of it by the end of the week.
"That Monday and Tuesday before the course begins, I always find myself stressed out as I am trying to prepare myself for what is to come," Chapman said. "But no matter what, the professionals are always so supportive and allow us to have mess ups and learn from them by pushing us to do our very best." 
On the final day of the course, participants were able to put all of the skills they gathered during the week to test by attending a small career fair. TV stations and media outlets such as ABC, NBC Universal, CBS, and more were in Crosby Hall ready to give students opportunities. 
As the career fair concluded, the newscast was displayed, the participants were continentally cheering and clapping for their peers with joyous expressions across their faces as they were beyond proud to see what they were able to put together in four days.
Grant Coleman, N.C. A&T senior atmospheric science and meteorology student, says the experience was invaluable and something he does not think he could get anywhere else.
"One key takeaway for me would be that connections and networking is everything in this business. Everyone I talked to either knew someone who could/wanted to help me or could point me in the right direction," Coleman said. "Being able to foster those connections makes the journalism world just a bit smaller."
At the awards ceremony,  Carlton Wiggins, Temple University senior journalism student, was awarded the Wanda Starke Student Achievement Award featuring a $2,500 scholarship as well. 
"This experience overall has been the biggest blessing for me. Before attending the course, I originally just wanted to see if I could keep up and if I was actually cut out for this industry. Now, I am genuinely excited for what the future holds," Wiggins said.