Despite the fact that the E. Gwynn Dancers of N.C. A&T only put on one show every year, they make sure it is one that audiences will remember. The company presented their annual spring concert on Saturday, telling the story of Black freedom through dance.
Dr. Eleanor Gwynn, a former professor here at N.C. A&T, has been dancing her entire life. She started her dance company here in 1985, and it is now known internationally.
"My husband worked here," Gwynn said. "He said he thought I should start the company here at N.C. A&T."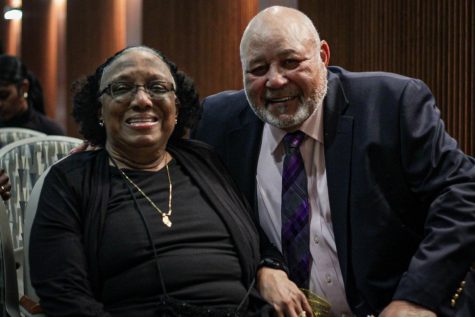 With the concert's theme being "Our Spirit Will Always be Free," Dr. Gwynn wanted to convey a message that many people may need to hear.
"There's so much trouble in this country, " Gwynn said. "People are unaware of what it means to be free, and it's hard to communicate that to an audience. We don't know anything about our own history, and that's sad."
The program started with a piece called "Kuku," a dance originating from the Bayla region of West Africa that is used to celebrate harvest. The dancers wore colorful African garments and danced to the upbeat rhythm from the drums.
The next dance, titled "Les Wontanara Under a Full Moon," portrayed a story of friendship. "Wontanara," meaning "we are friends," is a word that derives from the West African tribe, Susu.
Each dancer had a partner, and in matching outfits, they displayed a timeline of their relationships through movement, all while under a full moon.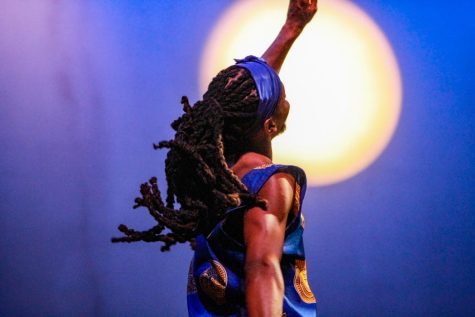 Dr. Gwynn choreographed the following dance titled "Slavery to Freedom to Restlessness." The number referenced pivotal moments of the Civil Rights Movement, including the crossing of Edmund Pettus Bridge in Selma, Alabama and the killing of Keith Lamont Scott, a Black man who was wrongfully killed by police back in 2016.
"It's a heartfelt piece," Gwynn said. "Growing up in Atlanta, I didn't realize how much segregation there was because of where I grew up. Now I want our students to know about their history."
N.C. A&T alum and current dance professor Dr. Cheryl Stevens choreographed the next piece titled, "He Never Fails," a piece inspired by faith.
Dancing to "Total Praise" by Richard Smallwood, the dance showed the struggles people face when it comes to maintaining faith, but everything will always be okay in the end when giving those struggles to God.
After "Metamorphosis," a dance inspired by skaters on ice, the company transitioned to hip-hop. The piece "Lo Intentions" was introduced by N.C. A&T English professor Byron Turman.
"What makes hip-hop ours," Turman asked. "It created culture, and we've been doing this thing for a long time. And we will be doing it for another millennium. That's what makes hip hop ours."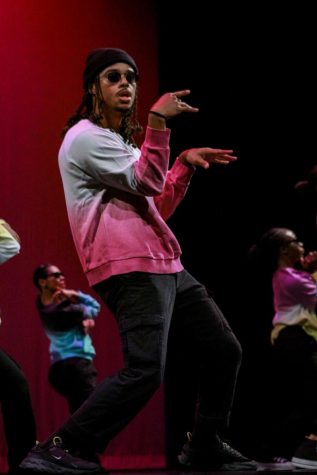 The final piece titled "Mandiani" is the signature piece of the E. Gwynn dancers. The number celebrated young girls returning home after spending months preparing for adulthood.
Before the show ended, dancers were presented with awards and scholarships.
Kinesiology student Imani Salley, freshman agribusiness student Makayla Eugene and junior finance student Zemira Campbell all received the Rising Star award.
"This has been the most rewarding experience ever," Salley said. "I was able to get closer to my African culture and learn about my homeland, which is something I wasn't able to do before this."
The E. Gwynn Dance Company allowed for young dancers to explore different parts of themselves.
"I've been dancing since I was three years old, but I only started African dancing when I got here," Eugene said. "My dad is Caribbean, so it's been cool to be able to connect with him in this way."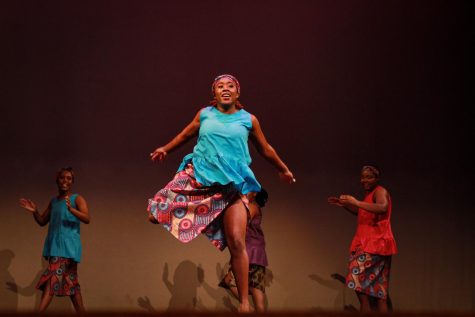 This dance company is giving their dancers opportunities to prepare for their futures. A handful of members will be traveling to Senegal over the summer to take classes.
"In the future I plan on opening my own dance studio in three different states," Campbell said.
The concert concluded with an award presented by Dr. Gwynn and her husband Dr. Spencer Gwynn. Company member Paula Rawls received a $4,000 scholarship.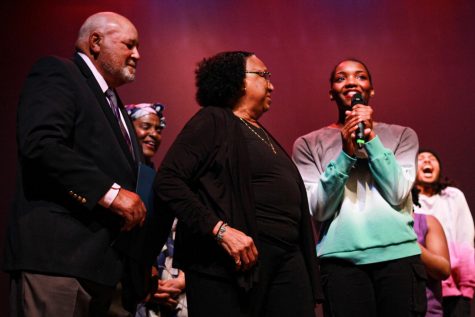 The E. Gwynn Dance of N.C. A&T will be holding auditions April 12th and April 13th in Corbett Sports Center room 102 from 6pm to 8pm. For more information, contact Dr. Melanie McLaurin at [email protected].