From new construction to new degrees to new development; America's leading HBCU continues to break records and barriers year after year. N.C. A&T Chancellor, Harold L. Martin Sr., kicked off this academic year with a back-to-school media avail. 
Martin began by discussing upcoming construction and renovation projects. Breaking ground next month, a new $64 million residential mixed-use housing complex is on the way and is set to help the ongoing housing crisis greatly. 
The five-story, 413 suite-style and traditional bedding dormitory will be called "The Bluford Street Residential Complex", named after its location across the street from Harrison Auditorium on Bluford Street.
In addition to new housing, the University Farm will be undergoing renovation this fall with a $13 million advanced test kitchen and development facility. The Urban Food Processing Complex will include a creamery, where Aggie Ice Cream and other dairy products will be sold.
Groundbreaking in 2024, the South Campus, N.C. A&T Gateway Research Park will be adding a community education center and biotechnology training center, and with a partnership with Impact Data, a "Dream Center" will also be built.
Martin then discussed the university's newest academic degree programs. Set to begin enrolling students this fall, these programs include a B.S. in Business Analytics and a M.S. in Data and Business Analytics.
In addition to the programs listed above, a M.S. in Physician Assistant Studies is also expected to begin accepting applications this year once provisional accreditation is given.
Programs that are currently being submitted for the Board of Governors review and approval include an M.S. in Criminal Justice, a Ph.D. in Criminal Justice, a Ph.D. in Sociology, a Ph.D. in Applied Psychology and a Doctor of Nursing Practice. 
Four of these programs are in the College of Arts, Humanities and Social Sciences. Three of them represent that college's first doctoral programs.
"There is so much to be excited about," Martin declared. "This year we will see many exciting things occurring. We expect to see another record number of students graduating from our university and corporate entities will be recruiting our students for internships and jobs all over the country in significant numbers."
With the highest level of Aggie Pride that one would hope for, Martin was proud to acknowledge N.C. A&T's development as a top-flight doctoral/research university.
"For us, the opportunities are immense," Martin said. We have to continue to be smart about managing our growth and quite frankly managing the change of our university." 
Regarding external awards by fiscal year, N.C. A&T was awarded $147.4 million – a $50 million increase over fiscal year 2022 and a 138 % increase over the past four years. Along with UNC Chapel Hill and NC State, N.C. A&T is one of the UNC system's three most productive research campuses. The supermajority of awards come from federal agencies, the most competitive arena for scientific contracts and grants.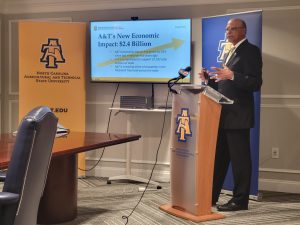 N.C A&T faculty are also developing national reputations for advanced, high-impact sciences in areas ranging from nanomaterials research, bioengineering, autonomous vehicles, food, nutritional science and more.
Martin noted that strong research programs improve the student experience by involving students in scientific studies and learning from respected researchers in the classroom.
"Seeing our university be a key part of a very aggressive strategy to change the narrative and the economic posture of this state, is a significant role and responsibility for us, and it [is] very exciting for me personally," Chancellor Martin proclaimed.
To close out the program, Martin was pleased to announce N.C. A&T's new economic impact is $2.4 billion. N.C. A&T's economic impact has grown by 63 % since last measured four years ago. It is now equivalent to supporting 17,33
7 jobs across our state and is considered to be a leading driver of prosperity in the Piedmont-Triad.