"The cops don't like us, apparently. Some of them are playing with us, and others want nothing to do with us, " said Zach Wall, a junior biomedical engineering student and Neomoblife skater. 
Sep. 1 marked the first day of National Campus Safety Awareness Month, but recent events have shown that students don't feel any safer than they did after new safety precautions were implemented. 
N.C. A&T informed students of gunshots that happened nearby and on campus twice on Aug. 25. Both incidents involved local members of the Greensboro community with no connection to A&T students or the student center.
"We enhanced the number of law enforcement and security officers on campus who patrol our grounds and buildings and respond to student needs as they arise," said Chancellor Harold L. Martin in the safety message email he sent on Aug. 26. 
Neomoblife, a skate organization at A&T, fosters what it means to be a black skater. Particularly in front of the scenic centerpiece, the student center, where students gather for many social events. 
But, for the past two weeks, skaters in the area have been constantly on watch by campus enforcement since the altercations took place.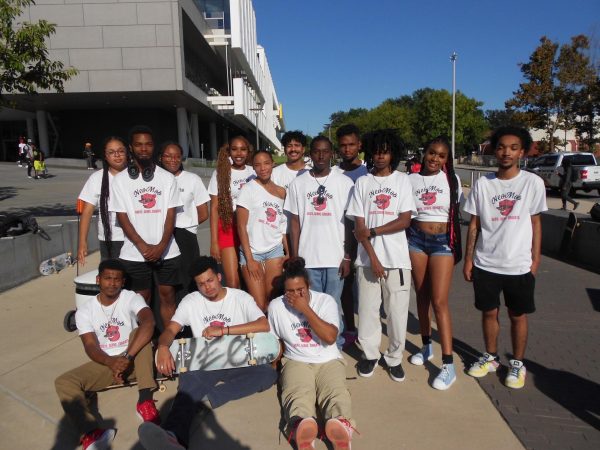 Malcolm King, a sophomore information technology major and member of Blknificent, believes the only solution to this issue is for the cops to treat them like students, not outsiders. 
"It was Sunday evening, Aug. 27, when we walked on the South side of campus with our skateboards," King said. "The cops came to check our ID for the first time, and we thought it was no problem.
"Paul Fliehman then proceeded to come back and check our IDs after we had already shown them, and then the sergeant came and said they got a call about drug trafficking. I felt like we were racially profiled because we had already shown our IDs twice."
Members of Neomoblife were harassed by campus police officers outside the student center on Wednesday, Aug. 30. Skaters were asked to show school IDs and were told it was to ensure they were not locals. 
Still looming from previous campus events related to gun violence, Chancellor Martin's safety message for the A&T Aggie family caused a bit of an uproar for Neomoblife participants and those who support them and their events.  
Students like Daniel Dilworth, a sophomore fashion merchandising student, had strong opinions about the new safety measures and how they directly affect campus culture.
"Why is it that when other people come to campus, we are the ones that have to suffer? People outside of N.C. A&T are only trying to ruin our fun," Dilworth said. "They know that it's an open campus, and they know they probably won't be reprimanded." 
Neomoblife's ability to skate in the Student Center is directly impacted by the new safety measures, with many citing over-policing on students in the area. 
On Wednesday, Aug. 30, A&T Officer II, Paul Fliehman, asked several skaters who had their boards out, skating in front of the student center, to show their IDs to "verify student registration."
He then sought anyone with a skateboard to check their Aggie One card and answered questions from skaters about where they were allowed to skate. 
According to a social media post on the Neomoblife Instagram page, Fliehman says, "Skating on the streets is a definite no-go because of the cars."
"This is the nicest we've been about skateboards; we just appreciate you for listening," he continues.
In the video, Fliehman is also found threatening to arrest skaters if they continue to skate in front of the student center again.  
On Thursday, Aug. 31, Neomoblife attempted to host a "Skate and Paint" event for students and was quickly shut down by campus police. 
Noelvie (no last name given), a sophomore biology student, expressed concerns about how these new precautions will affect her and other students' favorite time of the year, GHOE. 
"The real question is, what's going to happen during GHOE when so many individuals who aren't students come to A&T for homecoming?" Noelvie said. "People get killed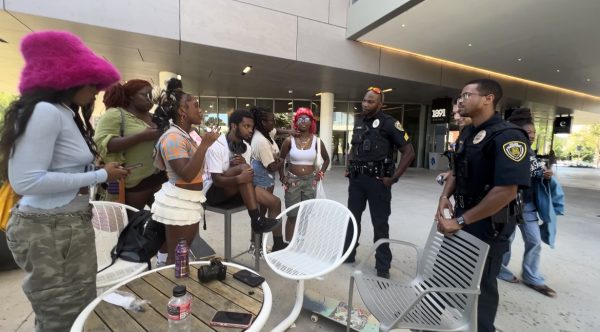 yearly, and it's never addressed, but they would rather address something as minor as a skating event on a public campus."
According to Giogette Gbenyon, a junior visual media design student, before Neomoblife got to set up the Skate and Paint event, officers told them they couldn't congregate at the student center. 
"The police officers started conversing with Neomoblife members, and I joined that conversation," Gbenyon said. "Several other students and I addressed our concerns about them restricting what makes the student center what it is for us."
Gbenyon continued to share how much the student center means to her and how Neomoblife has created an atmosphere that students enjoy. 
"The student center is where Neomoblife hosts successful campus events," Gbenyon said. "Events like on Valentine's Day felt so magical being out there with everyone, vibing, listening to music, and enjoying the community." 
Several students and Gbenyon asked the officers why so many had been on duty for the Skate and Paint event and not for the shootings on Aug. 25. 
"I saw that other students were talking to the officers, so I joined the conversation and asked Officer Prince and Officer Siler why they weren't on the scene when the shootings occurred at the Student Center," Gbenyon said. 
"Christopher Siler, Officer II, said that he 'wasn't on shift' the day the shootings occurred," Gbenyon continued.  "Both officers then told us that there was nothing they could do and that we would need to address our concerns to the student center." 
The A&T Register contacted Robert McNair, Executive Director of the Student Center, for an interview to discuss students' concerns and possible solutions. McNair declined the request to interview and forwarded the concerns to Jackie Torok, the Director of Media Relations. 
According to Neomoblife members, they have tried to contact the student center concerning their ability to skate many times but have yet to get a proper solution. 
According to Torok, plans for a skate park have been included in "campus construction plans for at least two years." 
It is not an immediate solution as skaters would hope; this is only a small step to a much larger situation. 
According to Malcolm King, the university has used the skaters as advertisement, as they have been "photographed and placed on the university website." At the same time, a quicker solution has not been implemented to ensure student's needs are met for this particular cause. 
On behalf of Robert McNair, Jackie Torok referred to the Ordinance adopted in Sep. 2020, provided by Parking & Transportation Services. 
SECTION 4-9:  Skateboards, Roller Skates, In-line Skates, Hoverboards
 

Skateboards, roller skates, in-line skates, and hoverboards may be used for point-to-point transportation on sidewalks and other pedestrian areas of the Campus. Skateboards, roller skates, in-line skates, and hoverboards may not be used on streets or parking areas.
    No person on a skateboard, roller skates, in-line skates or hoverboards shall engage in trick riding on Campus. Trick riding is defined as any type of movement where the wheels of the skateboard, roller skates, in-line skates or hoverboards are deliberately removed from contact with the surface in a repetitive procedure. 
    Reckless operation and excessive speed shall also constitute a Traffic Offense.
    Skateboarders, roller skaters, in-line skates and hoverboards must yield the right-of-way to pedestrians and persons in wheelchairs.
    Persons sixteen years of age or older who violate this Section may receive a Traffic Offense violation citation.
    Persons younger than sixteen years of age who violate this Section may have their skateboard, roller skates, or in-line skates confiscated by University Police. In such cases, the offending juvenile must contact his/her parent for a conference to explain these Ordinances to the parent and juvenile. The University will return the confiscated property at the end of the conference.
    Repeated violations by persons younger than sixteen years of age may result in restriction of Campus visitation and use of facilities or referral to juvenile authorities.
"Signage that displays this ordinance was installed at the Student Center in 2021 in public view. While students may skateboard, occasionally, some may put pedestrians in harm's way by doing tricks or skating recklessly.
"The signage is posted at the Student Center to ensure everyone knows the ordinance," Torok said. "Staff at the Student Center know students' concerns about skateboarding and share them with UPD leadership." 
While maintaining safety is the primary responsibility of campus police, incidents of harassment and racial profiling have raised questions. Such encounters with Neomoblife can undermine confidence and widen the gap between the police and the people they should protect.
Training programs on community policing, de-escalation strategies and cultural awareness are recommended for campus police.