Aggies start Du-rag day tradition by: Elijah Gibbs-Jones and Teyah Glenn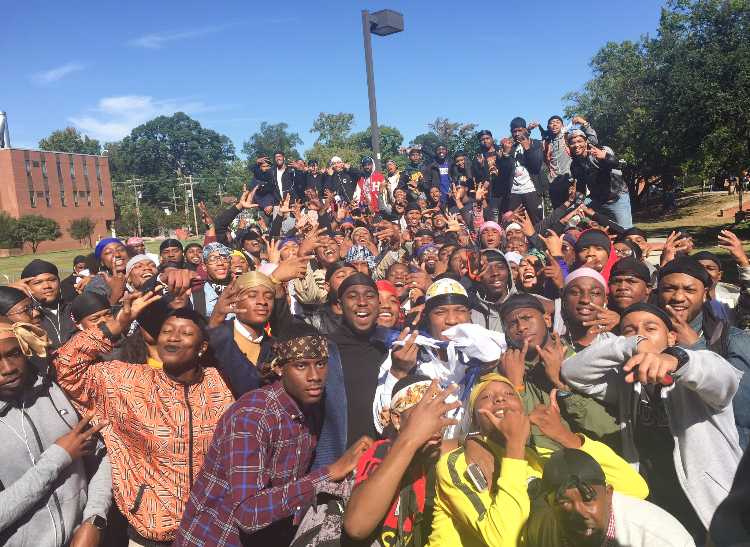 Wednesday, Oct.18, 2017 constituted as North Carolina Agricultural and Technical State University's first-ever campus wide Du-rag Day.
According to Urban Dictionary, Du-rags have been around since the 1970s, and first appeared in prisons to determine male inmates' sexual orientation.
Presently, it is a fashion symbol for black people, especially males.
The campus wide Du-rag day was initiated by Word on the Block (WOTB), N.C.A&T's television show.
"We created it [Du-rag day] to bring unity with the black men on our campus. As a black man, the world tries to deteriorate us on a daily basis,"  said Robert Coleman, co-founder of WOTB.
"However, seeing us on one accord through events like this, displays a powerful image."
The euphoria of Du-rag day overflowed at 12 p.m. when students were encouraged by WOTB to pose for photographs in front of Williams Dining Hall.
Students were overjoyed to see varieties in Du-rags, headscarves, and bonnets that included, but were not limited to, the colors of blue, orange, pink, and even the N.C.A&T mascot, the famous Aggie Dog worn by Mr. Freshman, Amir Abdulraheem.
Twitter and Snapchat demonstrated the excess amount of students who participated.
Hashtags like #AggiesDu, mirrored N.C. A&T's slogan, "Aggies Do," and flooded social media timelines.
"I tweeted that N.C. A&T should have a campus wide Du-rag day because, as an African-American male who is in college, I'm aware that my peers and I are tired of being profiled as thugs and criminals because of what we choose to wear," said Caleb Jones, junior informational technology student.
"People all over should know that we are educated black men regardless of what we wear on our heads," Caleb Jones reiterated.
N.C.A&T began receiving recognition from students everywhere through outlets like the Historically Black Colleges and University's (HBCU) Snapchat story. After the enormous amount of participation, Du-rag day has been declared as an annual event for Aggies and will continue to be supported by WOTB.
The immense participation in Du-rag day was evident as students all over campus walked to their classes and enjoyed dinner in the Dining Hall, which was also hosting a pajama night on the same date.
As participants enjoyed their dinner and engaged in conversation with one another, many of them were astounded over how good the Du-rags made everyone look and feel.
Additionally, WOTB will continue to create more days to celebrate African-American culture.
After releasing their footage of Du-rag day, WOTB announced the establishment of a campus wide Tailored Tuesday to give male students an opportunity to wear "suits, ties, shoes, and satchels," on Oct. 24th, 2017.
The group also has plans to give women a chance to come together as well, but students will have to stay tuned.
Follow Elaijah Gibbs-Jones on Twitter @_lifewithlai.