Is It Bryce Harper's Last Run In The Nation's Capitol?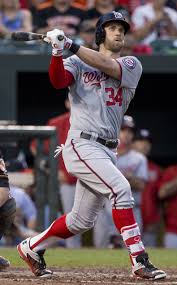 ---
Though Bryce Harper has not led the Nationals past the division series in the playoffs since 2012, they have done so four times in his tenure.
Bryce Harper was selected by the Washington Nationals with the first overall pick in the 2010 Major League Baseball draft.
He has won National League Rookie of the year (2012), National League MVP (2015), and the Home Run Derby winner (2018).
Notable teams who are interested in signing Bryce Harper in the offseason are the Los Angeles Dodgers, Philadelphia Phillies, New York Yankees, Boston Redsox, Los Angeles Angels, San Francisco Giants and the Chicago Cubs.
"We should have shielded away from mega-deals for free agents because they knew this time would come," said Dodgers General Manager, Andrew Friedman.
However, Pitcher Clayton Kershaw is set to be a free agent, also, so could they be planning on signing both superstars?
The relationship between Cubs' star Kris Bryant and Harper has raised many eyebrows wondering if these former NL MVPs could wind up as teammates next year. With both players being from Las Vegas, they have grown very close over the years. In addition, the Cubs' right fielder Jason Heyward is under contract through 2023 which will pay him $106 million dollars.
In the city of brotherly love, the Phillies are in the position where they can offer him a  mega-deal worth up to $62 million. With the Phillies and Nationals being in the same division, Bryce has played against the young core of players that make up the Phillies' roster.
Fans across the country would love to see Harper share an outfield with Angels' star Mike Trout. With about $40 million to spend this offseason, it may be hard to pursue Harper with Mike Trout, Albert Pujols, and James Upton under big contracts.
Trout's contract expires in 2020 and the potential signing of Harper can hinder a Trout return in the future.
Bryce Harper has said numerous times that he grew up a Yankees fan and would love to play for the organization. However, his chances are very slim due to Giancarlo Stanton and Aaron Judge. Both players contracts leave them in New York for a couple more years.
Lastly, with Max Scherzer earning roughly $107 million through 2021 and Stephen Strasburg earning $93 million through 2022 the Nationals look to be the last option for Harper. Not to mention, Jayson Werth is still on his seven-year contract with the Nats which is worth $126 million dollars. The Nationals keeping Harper will, by far, keep the fans happy.
"It's time for us to be contenders again weather with Bryce or without," said by Nationals' general manager Mike Rizzo.
This year's Free agency is bound for a lot of surprises and mega-deals. Bryce Harper is not the only big name superstar on the market this Winter; Andrew McCutchen, Andrew Miller, Clayton Kershaw, David Price, Elvis Andrus, and Manny Machado are just a few other notable MLB stars.