What happened, Kanye?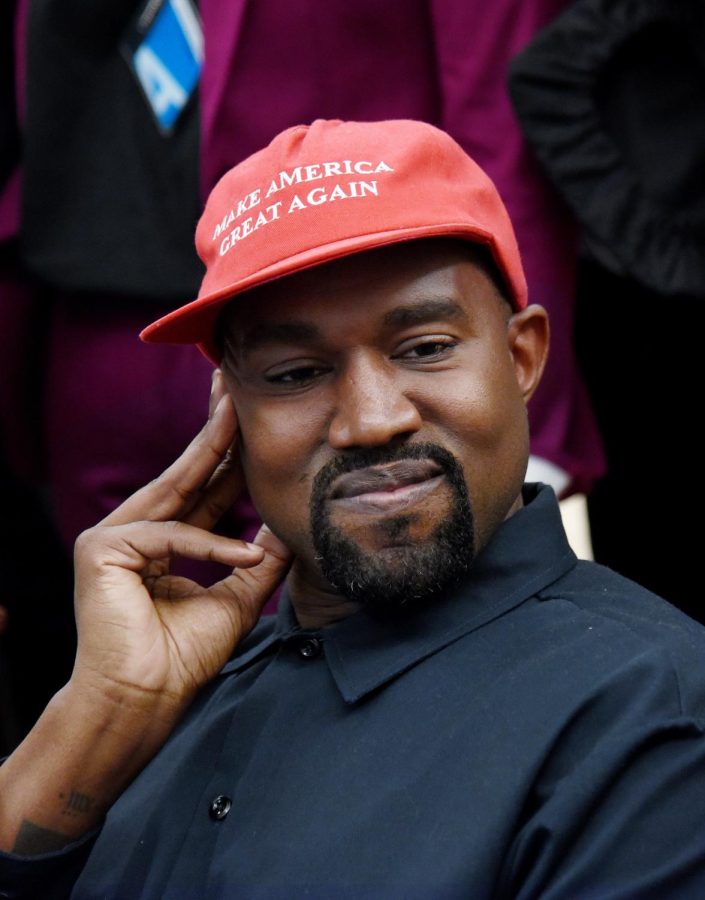 Taylor Mithcell, Contributor
October 24, 2018
"Cause they make us hate ourself and love they wealth. That's why shorties hollering, 'where the ballas at?'"
Lines like these have kept us infatuated with Kanye West for more than 14 years.
West started off his career as a behind-the-scenes music producer for hip-hop icons like Jay Z and Nas in the late 90s. Then in 2000 he began to be mentored by Jay Z and placed under the "Roc-A-Fella" empire, where he began his rap career. First seen rapping on his "Get well soon…" mixtape released December of 2002.
West was a lyrical rapper with an activist voice, representing and standing for the culture.
Since the release of his first album "College Dropout," West was outspoken and aware of the social issues affecting young black people. Before Kendrick Lamar and J. Cole, we had West.
As he grew as an artist, his music was filled with stories of love, loss and the industry. The kid from the southside of Chicago reached his dreams with no end in sight.
However, as West's music career continued, life around him began to crumble.
From a horrible car accident leaving him in need of facial reconstruction surgery in 2002, to a cosmetic surgery incident that killed his mother in 2007, West's private life seemed to be going in downward spiral af the peak of his success.
The loss of his mother seemed to change him forever. He openly blames himself for her death. "If I never moved to L.A, she'd be alive," West said in a 2015 interview with UK magazine Q.
Still, we loved him.
West has won 237 awards and 21 Grammys. He brought artists like Big Sean, Chance the Rapper, and Teyana Taylor into the spotlight. He has established himself as an icon and legend and never been afraid to tell anyone that.
However, the man who wrote the lyrics to "All Falls Down" – which stole the peoples' hearts in 2004 – is no longer the same person.
Everyone change over time, but the Kanye West we see now is damaging and hurtful. West's passion for fashion and shoes has turned him into a businessman, but it seems his passion for the industry has trumped his passion for the people.
Over the last few years, West has discussed the difficulty getting into the fashion industry and working with big time brands like Nike and Adidas. West felt ostracized by the other fashion brands because of his race and rap career. His fight for fashion turned into a fight for his "make America great again" (MAGA) rights.
Recently, West expressed his support for President Donald Trump, who has done nothing but tear people apart since he announced his candidacy.
I'm your oxygen

— ye (@kanyewest) December 14, 2018
It started with a series of tweets in which West calls Trump his "brother." West also said Trump and him share a special "dragon energy." West then appeared on interview on TMZ interview where he says "slavery was a choice," which unsurprisingly had the internet in an uproar.
During a recent sit down with Trump, West talked about the problems surrounding Americans: lack of work opportunities and the issues with black people (even though some would say he has not understood the problems of black people for a long time). West called the infamous MAGA hat his "Superhero cape."
While he did speak on fixing the stop and frisk epidemic slightly, the support and love West has for Trump is like a punch in the face to some of his fans.
Trump represents separation and anger. Trump threatens the comfortability of minorities with his speeches and provokes hated in some groups of people. So how can someone like West who once stood for the culture be reduced to an annoyance and disappointment?
West has expressed his battles with mental health like being diagnosed with bipolar disorder. Millions of people across the world deal with bipolar disorder and initiatives like Mental Health Awareness Month create opportunities for open discussions.
Yet, it seems West lacks the guidance from his friends and family to make sure he is treating himself properly. While we might not know the reason why Kanye has "switched up" on us, we should hope that one day he climbs out of his sunken place and comes back to the people.