HBCU vs. HBCWho?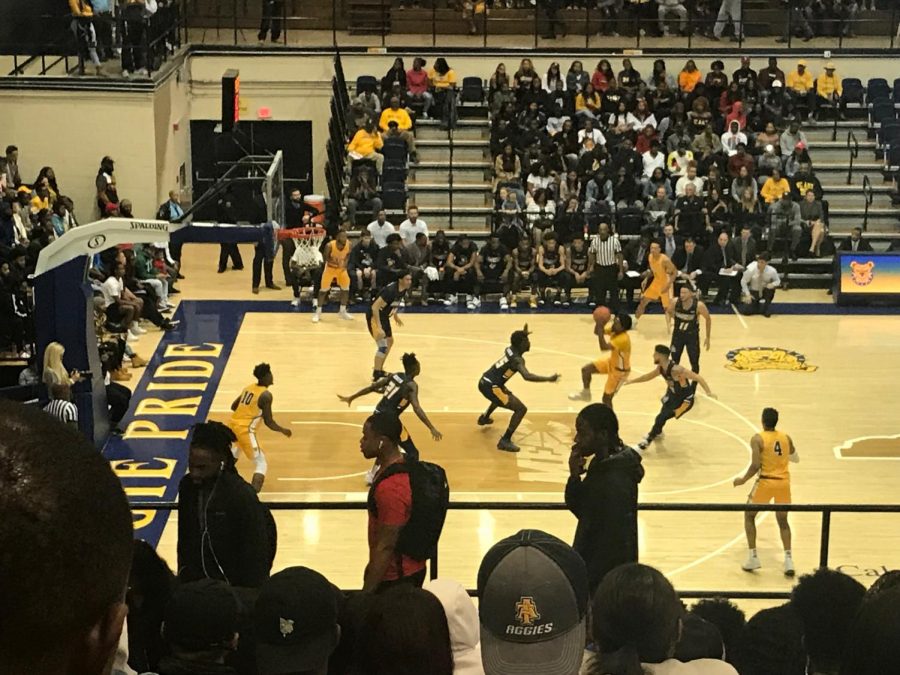 East Dockery, Contributor
November 14, 2018
On Tuesday, Nov. 6, N.C. A&T Aggies faced the UNCG Spartans, a non-HBCU, at Corbett Sports Center.
Towards the end of the fourth quarter, the Aggies were already down six points, but with a slam dunk made by UNCG guard, Isaiah Miller, the Aggies got up out their seats and immediately left the arena.
Both UNCG and N.C. A&T students flooded the student center, and shortly after that, the Twitter war had begun.
Aside from basketball, the UNCG v. N.C. A&T battle has been going on for a while but UNCG's win over N.C. A&T was the icing on the cake. The petty arguments, tweets and "subtweets" are all a pure form of entertainment.
Multiple memes and videos have been posted by UNCG and N.C. A&T students with captions such as "UNCG isn't an HBCU," "UNCG is for white people," "UNCG is lame," and, "You can't get a job graduating from NCAT." All of these statements to add more fuel to the fire and rile up the Aggies even more.
However, could this call out be more of a mistaken culture identity crisis?
Some people have argued that it is all a joking matter, and some have argued that even if it is a joking matter, it is still disrespectful to the history of HBCUs in general.
To be considered an HBCU, a university must have been established before the Civil Rights Act of 1964 and founded to educate students of African-American descent.
UNCG was established in 1891, but with the sole intention of providing education for women, for it was known as the North Carolina College for Women from 1919-1932 and did not admit its first black students until 1956, 65 years after N.C. A&T was established.
Aside from past colorist limitations, however, the HBCU culture formed into a beast of its own.
One does not want to imitate something if they aren't in some way impressed by it.
"The HBCU experience is unique in its own way because it a culture within a culture," said Mike McMillan, a N.C. A&T alumnus.
Perhaps that is why UNCG attends our parties and our homecoming because of our culture. Despite the swag surfing videos, discrediting the quality of our education, and what day you decide to eat fried chicken on, one will never truly understand what it's like at an HBCU.
In all reality, it is actually flattering that we have such an impact on those around us. You do not necessarily have to look up HBCUs to know that N.C. A&T is an HBCU.
"We Aggies are often comfortable in our skin. We are unapologetic about the estate of excellence that we strive for. I've never seen somebody shoot at an eagle that was on the ground" said Alan Hooker, an N.C. A&T alumnus.
There are Aggie alums all over the world, that are striving in businesses, engineering, law, the medical field, etc. and they are all great examples of the type of success you can achieve while being here at A&T.
Being an A&T student, or even an HBCU student, is more than the parties, the sports, or the pep rallies. It is about the connections you make, the family feel, the magic and history that runs through our veins and our community that makes us what we are. Due to that, we have made and are continuing to make historical impacts on this nation and this world.
Just look at Howard University graduate, Rodney Williams, who is CEO of Lisnr, a leading resource for data over audio. Winston Salem State University graduate, Stephen A. Smith, who analyzes sports in a way that intrigues audiences of all demographics. Morehouse graduate, Martin Luther King Jr., who was the face of the Civil Rights movement that made a lasting impact on so many lives to this date. With influential people as such, us students of HBCUs will continue to stand firm in our foundations and our culture and are proud to be who we are.
Despite attending an HBCU, black college students are striving to receive an education and impacting the country, and we must always keep in mind that a win for one is a win for us all.