For the 11th straight year, N.C. A&T, UNCG, Guilford Technical Community College (GTCC) and Guilford College came together to celebrate the legacy of Dr. Martin Luther King Jr. The event took place in Harrison Auditorium, after being virtual the past two years due to the pandemic.
The four neighboring universities united for a discussion centered on Dr. King's famous quote: "Walk on in the days ahead with an audacious faith in the future."
The program began with a performance of the Black National Anthem, "Lift Every Voice and Sing," by UNCG's Neo-Black Society.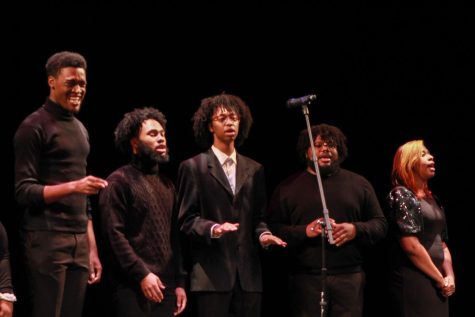 Following UNCG's Neo-Black Society was a performance by GTCC's drama department that highlighted how King's activism is reflected in the art that we consume, noting artists such as Ella Fitzgerald, Langston Hughes, Maya Angelou, Nina Simone and Alvin Ailey. 
"So we take our cues from artists and social activists who reflect humanity across time and space, putting his ideology into thought and action," the performers chanted.
The theme of the night being "Envisioning Our Future," four students from each school who exemplified King's passion for equality served as panelists. They shared their insights on how their respective universities can continue to grow, as well as what they are doing personally to continue that growth.
On the panel were students Ezana Tamrat (N.C. A&T), Tinyah Ervin (Guilford College), LaShonda Souza (UNCG) and Jeshika Lamsal (GTCC), all of whom are in a leadership position on their campus.
The panel, moderated by Elon Assistant Director of Alumni Engagement La'Tonya Wiley, focused on the idea of young Black people being audacious, and how having audacity is so commonly seen as a negative thing, but in reality it can be one's greatest strength.
Tamrat, N.C. A&T Student Body President and senior political science student, had a story that encapsulated her audacity.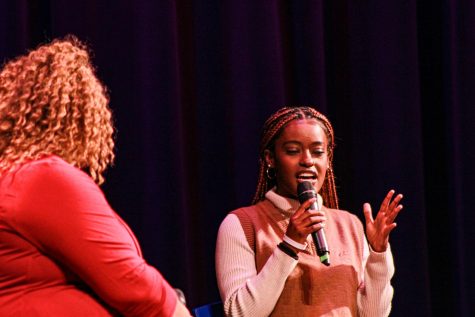 "I was born in East Africa and I came to America when I was seven," Tamrat said. "This life was new to me, but I had seen it and read about it. That audaciousness comes from accepting I'm in a new place, but knowing I'm supposed to be here doing something."
Lamsal, GTCC Student Government Association President, also had a testimony to her audaciousness.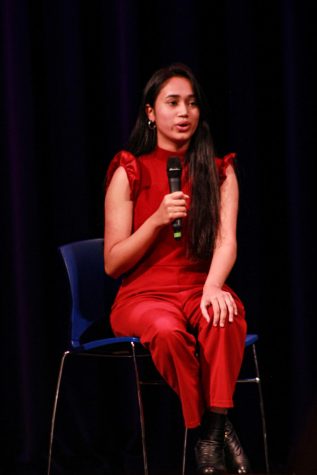 "I was born in Nepal, and I had to start the 9th grade one week after moving to America, without knowing anything about American education," Lamsal said. "Being audacious is how I moved forward in my life. I enrolled at GTCC and joined SGA, and then took the risk of running for president."
After the moderator-led discussion was the audience Q&A, and the night ended with one final question: "What dream do you have for your school?"
Tamrat wants N.C. A&T to be a safe space for all.
"We pride ourselves on the representation of the A&T Four," Tamrat said. "I want to continue to expand student's abilities to freely think and voice their opinions without so many steps to achieve their goals."
The A&T Four shared the same audaciousness as Dr. Martin Luther King Jr., and the school will also be celebrating the 63rd sit-in anniversary on Feb. 1st.