LeBron James Cements Himself as the NBA's New All-Time Scoring Leader
This past week, Lakers legendary superstar LeBron James scored 38 points against the Oklahoma City Thunder, breaking the all-time scoring record of 38,387 points set by Kareem Abdul-Jabbar nearly 40 years ago.
James ironically broke the record on the thirty-eighth day of the year at age 38 by scoring 38 points to break the scoring record — which was thirty-eight thousand, three hundred and eighty-seven.
Crypto.com arena was filled with a haul of fans, family, friends, reporters, celebrities and hall-of-fame athletes as the world was ready to witness the breaking of Kareem Abdul Jabbars' scoring record. The Lakers gave out more than 200 credentials to media members — which is typically only seen for NBA Finals games.
The former No. 1 pick in the 2003 NBA Draft hasn't let 20 years in the NBA and being 38 years of age depreciate his skills. So far this season, James is averaging 30.2 points, 8.5 rebounds and 7 assists per game through 44 games — the most he's played before the all-star break in nearly four years.
After days of speculation of what move he'd do to break the record, the world stood still as James hit a fadeaway jump shot over Thunder forward Kendrich Williams to surpass Kareem. The game stopped immediately following the record-breaking jumper and an intermission began as words from commissioner Adam Silver, Abdul-Jabbar, and James were given during the moment of reflection and acknowledgment.
What a night.#ScoringKing pic.twitter.com/hsvuOeiNgv

— NBA (@NBA) February 8, 2023
"Tonight, I actually felt like I was sitting on top of the arena when that shot went in, and the roar from the crowd. I'm not sure if I would be able to feel that feeling again unless it's a game-winning Finals shot," James said.
The journey began in 2003 when James was drafted No. 1 overall by the Cleveland Cavaliers. James was just 18 years old when he made his regular season debut in the NBA against the Sacramento Kings on Oct. 30, 2003. In his debut, James scored 25 points while adding six rebounds and nine assists.
Tyler Paylor, a junior marketing student, is a big fan of James. "Watching LeBron play during his time with Miami is by far my favorite era for him. The iconic alley-oop dunk with Wade throwing it off the backboard gets me hype everytime", Paylor said.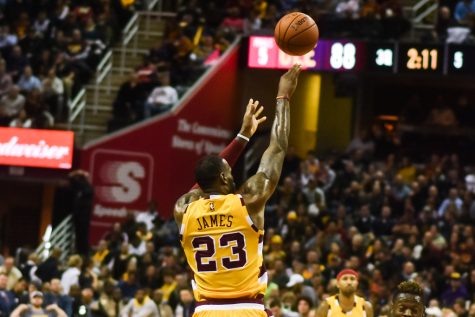 James would continue with the Cavaliers' for the next seven seasons. In 2010, James made a move that shocked the NBA community, as he announced his signing with the Miami Heat to play alongside Chris Bosh and Dwayne Wade.
James completed four years with the Heat under a six-year, $110 million contract and obtained his first two rings with them back in 2012 and 2013. In the spur of the moment, it was a great achievement but James knew that he wanted more.
"It was just a proud moment, something that you will never, ever forget. At the end of the day, nobody can — no matter what anybody says from now on in your career or whatever they say, they can never take away from you being a champion," James said.
In 2014, James shocked the world of sports with his return back to Cleveland. Leading the team with All-Star talents in Kyrie Irving and Kevin Love, James made it a goal to bring a championship to his home state.
The 2015-16 season is the year James came through on his promise. On June 19, 2016, LeBron and the Cavs made history — coming back from a 3-1 series deficit and defeating the Golden State Warriors in Game 7 of the Finals.
"At this point, if you're not from here, live here, play here or dedicate yourself to Cleveland, then it makes no sense for you to live at this point — Cleveland against the world," James told the Oracle Arena audience during his speech after winning his third championship.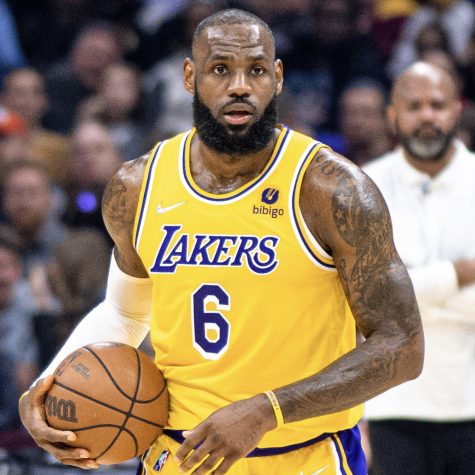 LeBron stands on top with multiple accolades to his name. James is a 4-time champion, 4-time league MVP, 4-time Finals MVP, an 19-time All-Star and selected All-NBA 18 times. Amongst all of those all-time accomplishments, James can now add an all-time leading scorer to the list.
LeBron has one final desire before calling it quits and hanging up his jersey. James wants to play with his oldest son, LeBron "Bronny" James Jr.
LeBron on what he needs to do before retiring:

"I need to be on the floor with my boy. Do the whole Ken Griffey Sr/Jr thing. Being with Bronny for a full year in the same uniform would be the icing on the cake."

Via @ESPN | @mcten | @gifdsports pic.twitter.com/GmIeeyqF4M

— Ballislife.com (@Ballislife) January 7, 2023
Whether or not you think he's the greatest basketball player ever, LeBron has at least cemented himself as a part of the NBA's Mount Rushmore of greatest players. Hopefully, fans use this past week to appreciate the greatness that we've seen on full display over the past 20 years instead of comparing him to other greats.