A room filled with HBCU students, alumni and talent is not an everyday occurrence in America, which is why it was such a special day in the White House this past Thursday.
HBCU student journalists and representatives from all over the country came to Washington D.C to participate in a White House Briefing with Senior Advisor for Public Engagement Keisha Lance Bottoms and Vice President Kamala Harris.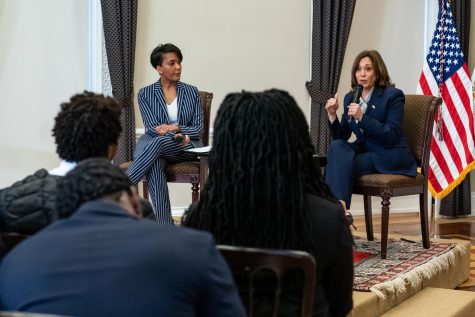 The conversation moved from funding HBCUs, to mental health and how big of an impact small businesses have on the economy.
Bottoms being a proud Florida A&M University (FAMU) Alumna and member of Delta Sigma Theta Sorority Inc., works closely with Biden and Harris especially when it comes to conversations centered around HBCUs.
Bottoms believes the Biden-Harris Administration has been one of the more progressive tandems when it comes to supporting Historically Black Colleges and Universities.
"President by Biden, and Vice President Harris have been very intentional in funding for HBCUs very intentional and making sure that the voices of HBCUs are heard on this campus as with a group of HBCU presidents just last week on campus," Bottoms said.
This administration made historical strides in 2022, providing 5.8 billion dollars to HBCUs around the country.
VP Kamala Harris is a proud Howard Alumna and member of Alpha Kappa Alpha Sorority Inc. and was excited to talk with all of the HBCU representatives.
After Edward Foster, Mass Communications student from Russ College, asked the VP about how the Biden-Harris administration plans to continue to support HBCUs, Harris went on about their next steps being centered around erasing student loan debt.
"As we all know, so many of our schools are very old and need upgrade to the classrooms, the libraries, things like that, but also the work that we have been doing that has been focused on issues like student loan debt, because we know the disproportionate burden that our HBCU students carry on that issue," Harris said.
Harris also expanded on how student journalist hold a powerful position when it comes to being intentional and personal in our work.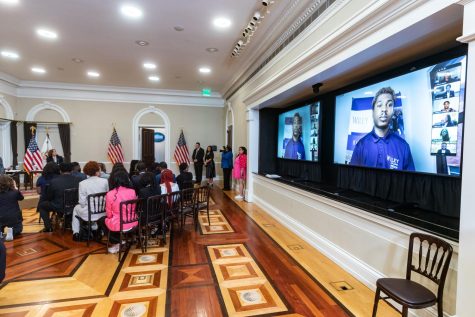 "I would encourage you as journalists to always remind all of us to see people in their full selves, to see people in all the facets and nuances in which everyone lives. None of us is one dimensional," Harris said.
When the topic of Mental Health arose, Bottoms spoke about her personal experiences with Mental Health and how people around her have been affected.
Bottoms went on to tell a story about how a fellow student of hers lost his life because he couldn't get the help he needed during a time of mental crisis. Bottoms believes if we don't have conversations about Mental Health, we will continue to run into the same problems.
"When you put trauma on top of trauma it spills out in ways that lets us know that unless we begin to articulate that there is a mental health crisis that's hitting communities of color, especially hard. Unless we are specific with our funding towards that we're going to keep having the same issues," Bottoms said.
Bottoms continued explaining that it's important to continue to have conversations as a Black community about Mental Health.
"Keep talking about it. Keep writing about it. People need to know they're not alone. They need to know that resources are there," Bottoms said.
Kamala Harris left these words with all of the HBCU representation in the White House Briefing room.
"You all have such a unique skill, gift and ability to really be a voice of and for so much that is important in our country," Harris said.