The Starbucks on N.C A&T's campus has been brewing more than just coffee. They have brewed up an entirely new atmosphere.
"It feels like Christmas morning," said Stacey Beddingfield, general manager of campus dining at N.C. A&T. "We have been waiting and waiting and we finally get to unwrap our gift." 
Temporarily closed for two months, the Starbucks on N.C. A&T's campus – located on the first floor of the Williams Dining Hall – made renovations in a little over a 6 week time span and reopened Monday, March 13, 2023 with improvements to its structure and overall appearance. 
"This is a great opportunity to better serve the students with a larger space," Beddingfield said.
This rebuilding included demolition of existing casework, ceiling, walls, lighting and equipment and the installation of new plumbing, mechanical fire protection and electrical support for new casework. 
"We were delayed by a few weeks due to supply chain issues," Beddingfield said. "We were waiting for some equipment to come in, which caused a bit of a delay."
Starbucks aims to get students in and out, cutting down the amount of time it takes to receive your order. With additional counter space from the remodeling came more equipment, which allows the average wait time being cut by 30 seconds.
Those speedy to-go orders are not the only things Starbucks looks to feature as the student clientele rapidly returns to better than normal.
"In the Greensboro area, we are one of the first to have their new look," Beddingfield said.
Starbucks' locations nationwide are going through a complete renewal of the "Starbucks look." The "clean-line, natural woods, and pops of green" did not just come with new furniture and decorations but it brought new menu items to the campus restaurant as well.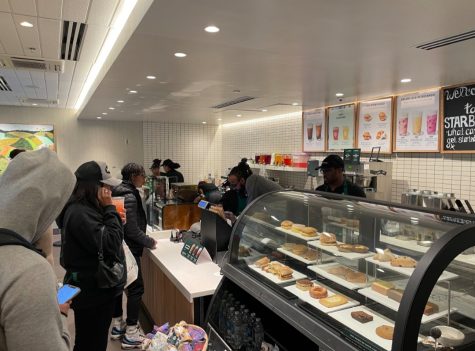 "The new items may bring new clientele, but I'm more excited about having more space in the back to work behind the counter," said Cheyenne Lewis, senior environmental science student employee. 
Lewis was an employee at Starbucks before the renovation and is a part of the 40% of part-time workers that were brought back to continue working. Although, Lewis had previous experience with this Starbucks she was required to participate in the rigorous 8 hour, 10 day training course.
This course is used to ensure Starbucks employees are fully equipped with the proper knowledge in customer service, kitchen etiquette, as well as order preparation. During this time period, the six employees create a connection which later plays a huge positive role as the crew works as a team when it comes time to be performance driven, through the eye of humanity.

After speaking with a couple customers about the reopening of the Starbucks they are excited to experience the brighter and more modern futuristic look as well as the expansion of space. 
"We want this to be an experience. We want customers to come into this new environment and just be able to have, even if its five minutes, a moment where students can recharge and relax," Beddingfield said.