"Pro-choicers on the internet have said to me, 'I want to kill you, or I think you should get raped,' and I just want to tell those people, 'You seem like you're hurting, and if you need pregnancy resources or support, I am here for you,'" said Lydia Taylor, Campbell University's pro-life activist. 
Despite receiving disturbing messages, Taylor's response has been one of empathy and support, expressing her willingness to help those struggling with pregnancy-related issues. Her compassionate approach starkly contrasts the divisive discourse surrounding reproductive rights.
Taylor gained attention when she protested Vice President Kamala Harris' stance on reproductive rights during Harris' visit to N.C. A&T as part of her Fight for Our Freedoms college tour. The event triggered a passionate exchange of opinions between pro-life and pro-choice advocates among N.C. A&T students.
Pro-life Force  
According to Taylor, being pro-life means being on the right side of history. The Pro-life Force organization runs rapid response teams in N.C. cities to fight the pro-abortion movement and promote a pro-life culture in North Carolina.  
When Taylor heard that Harris was coming to A&T, she contacted the response team in Greensboro and organized the event. 
Pro-choice 
Students have expressed their feelings about Taylor and her decision to protest on campus. Sara Joda, a senior liberal studies student, strongly opposed pro-life views and argued that no one is 100 percent pro-life.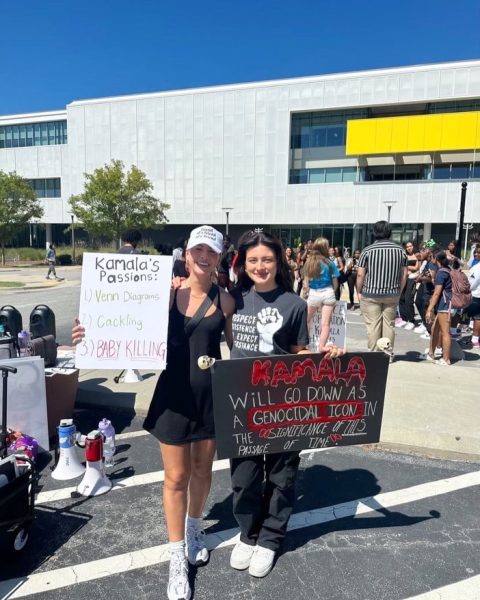 "I realized the whole time that she was pro-birth, not pro-life," Joda said. "This means that after the child enters the world, she won't do anything about it."
She continued to say that Taylor's approach was wrong and that if her posters didn't target Harris, she would have joined forces to help protest her pro-life views.
Lydia Taylor protesting at N.C. A&T 
"I like that she helped pregnant women on campus;                  
however, her posters targeted Kamala Harris," Joda said."If she were out there with resources and facts on those posters, I would have happily spoken to her and teamed up with her."
The Christian perspective 
The Christian worldview sees abortion as killing an unborn child while still inside its mother. Fertilization is the first step in the process of life, according to both science and the Bible. 
Abortion is murder because it destroys a beautifully and wonderfully formed person in God's image.
Pro-life students like Jayla Richardson, a junior criminal justice major and founder of "Abstinent Adolescents," say that supporting the birth of a child is too often seen as bad.
"I think "pro-birth" is seen as bad, but I think life is inside a woman. I don't think there's anything wrong with wanting that baby to live," Richardson said. "I think it is convenient to be pro-choice; it takes lots of research and understanding to be pro-life. 
"When I was pro-choice, I was getting spoon-fed little bits of information about abortion, and now, looking at the full picture, I see that science has always proved that life does start at conception."
Channing Barnes, a junior computer science major, agrees that many pro-lifers care significantly about the quality of life for children. He argues that even in dire circumstances like rape, a child still has dignity, value, and worth.
I think people should wait until marriage to have children because that will greatly increase their quality of life for the child, simply based on statistics," Barnes said. 
"Rape and sexual assault are terrible things; my heart goes out to anyone who has suffered that. While I acknowledge these things, a living human is still inside the mother whose right to live should be protected."  
"I believe that the best response for this situation is to give the mother abundant resources to suit her financial, physical, and emotional needs for caring for the child," Barnes concluded. 
But when asked about reproductive rights, Harris said, "One does not have to abandon their faith or deeply held beliefs to agree that the government should not be telling her what to do with her body."
Effects of Pressure to Abort
According to a 2011 British Journal of Psychiatry study, women who had abortions experienced significant changes in their mental health. 
The study examined medical records from 877,000 women, 164,000 of whom had abortions. Aborted women were 81 percent more likely to struggle with mental health issues.
According to a recent study, women who reported a history of abortion were significantly associated with more negative emotions, flashbacks to the abortion, and more moral and maternal conflict over the decision. 
Students like Joseph Bertrand, a senior mechanical engineering major, believe that men have dictated for far too long what women are allowed to do with their bodies.
"I support a woman's right to choose whether or not she would like to have a child," Bertrand said. "The pro-life movement continues to deprive women of bodily autonomy." 
The Pregnancy Network 
There are many resources right down the street from campus. The Pregnancy Network is a Christian, multi-denominational organization seeking to serve women who need help facing their unplanned pregnancies without fear.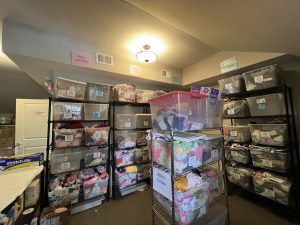 A few of their services include pregnancy tests, ultrasounds, and STD testing, all performed by licensed professionals. All services are free of charge to clients and funded by individual donors and organizations in our community.
The company offers free baby and maternity items that can be received through their educational classes. Women can receive what they may need during pregnancy. Some items include baby bottles, pacifiers, shampoo, body wash, lotion, and diapers.  The communications manager, Kacey Minor, said, "We do not perform or assist women in having an abortion.
"We believe that it is important that women are informed about abortions; we offer abortion recovery resources because no matter what a mother decides, we are there for them."
The A&T Register requested an estimate of college women seeking support from the company. The Health and Client Services Director, Angela Jackson, shared these stats regarding the ages of women the company has served so far this year:
Appointments January 1 – September 19
| | |
| --- | --- |
| Age | Number of Women Served |
| 15-19:  | 64 women |
| 20-24: | 282 women  |
| 24-29: | 233 women |
While The Pregnancy Network provides services to other age groups, the groups noted would best represent the number of students served.
Conclusively, The Students for Life Organization and The Pro-life Force have worked tirelessly to pass pro-life legislation in North Carolina successfully. They are working even harder to have campus representatives from each college in North Carolina start a pro-life organization. 
In North Carolina, it is now acceptable to have an abortion if you're fewer than 12 weeks and six days pregnant. However, abortions are prohibited in the state after 12 weeks and six days, as several clinics will cease to perform them earlier in the pregnancy.
Women shouldn't have to abort their babies to be a success, to please others, or to conform to societal and political beliefs. Students for Life, Pro-life Force, and The Pregnancy Network support this pro-life ideal. "Women are strong and capable; we've seen women graduate with honors," Minor said. "Women can be confident in saying, "We can do this," but they shouldn't be limited in feeling they have to choose between being a mom and being a successful student– they can do both."