N.C. A&T continues to increase student enrollment, and the lack of space is becoming more apparent on campus. Tickets to several events in recent weeks have sold out in record time. 
On Sept. 7, the Council of Presidents hosted its first organization fair of the academic year. Homecoming event tickets and game tickets were released for students to reserve during the fair. Within hours, the homecoming game was sold out, and tickets for other events, such as the concert, became limited.
Many students took to social media to voice their frustrations with the inability to reserve their free tickets before they sold out.
Malfunctioning software was among the top issues discussed in the comment section of the Aggie athletics Instagram page, where the news broke of a sold-out game. 
One user commented, "More student tickets need to be dropped like y'all just started selling them yesterday, and the website was crashing."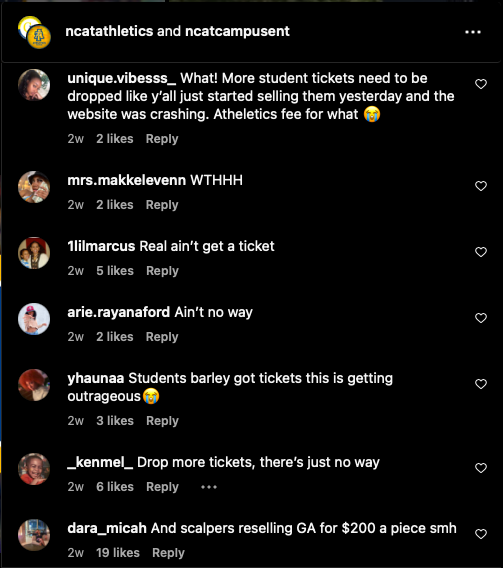 Outside of homecoming, other events on campus have also been affected because of high demand and limited tickets.
Kerry Washington, award-winning actor, director, producer and organizer, stopped at the university on Sept. 21 as a special guest in the Chancellor's Speaker Series. Students could claim tickets Sept. 11 in Brown Hall.
Students were lined down the sidewalk outside Brown Hall before 9 a.m. to hopefully get their tickets. Within a few hours, they were sold out.
The event was in Harrison Auditorium, a popular venue on campus with a capacity of 1,000. 
With A&T's current enrollment nearing 14,000, only a fraction of students can attend events hosted in the auditorium. 
Morgan Johnson, a sophomore biology and kinesiology student, said she had to wait over 30 minutes to secure her ticket to see the "Scandal" TV series star.
"I got there at 8:55, right after my 8 a.m. class, and waited at least 30 minutes," Johnson said. This was even after I had a friend get in line for me earlier."
A senior automotive engineering technology student, Garrett Taylor, said he had a similar experience.
"I'd say it was about a 30-minute wait for me, and the line stretched down the sidewalk and into the parking lot," Taylor said.
On the day of the talk with Washington, many students who had tickets were turned away due to the event being at capacity. 
Arianna Graham, a junior biomedical engineering student, was excited to get some insight from Washington, but her feelings quickly changed when she was turned away.
"I got there 10 minutes early and dressed up and everything. However, when I walked up to the building, there was a small crowd outside, and they would not let any of us in," Graham said.
 "The doors got shut and locked in our faces, so I went back to my car to watch the livestream. Luckily, the ticket was free, but it felt like a slap in the face, especially with all the waiting it took to get tickets."
Students hope something will be done to increase the size of buildings on campus to accommodate the university's growing population. 
Preeminence 2030: North Carolina A&T Blueprint is the current strategic plan for the university's future. It details the university's goals and outlines the plan to enhance infrastructure across the campus.