Aggie Fest isn't what it used to be by: Lauren Mitchell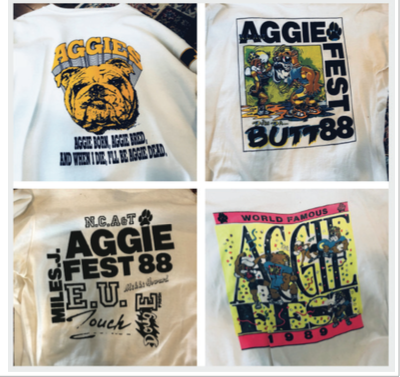 It can be said that Aggie Fest is the most anticipated event of the year, following GHOE.
The week-long festival gives students a break from the stress of classes and allows them to have a good time.
As the years go by, Aggie Fest seems to be overshadowed by the glory of what it used to be.
Many older Aggies remember Aggie Fest being as big as homecoming, turning out huge crowds of students, students from other HBCUs and even locals.
It started around 1980, and by 1985, it had become the premiere college spring event.
Events were originally held at the practice and included tailgates, a block party and concerts, featuring big names like the S.O.S. Band, Lakeside, and the Gap Band.
Unfortunately, the event grew too fast and caused many issues. As quickly as
it rose to fame, it was shut down after four people were shot by non-students in 1990.
It was successfully brought back in 1991 as the "Spring Spectacular," but was shut down again in 1992 after a riot erupted, where 300 to 500 people blocked traffic, jumped on cars and threw rocks and bottles.
These violent eruptions tarnished the reputation of Aggie Fest and forced the school to rethink hosting such large social events.
Once it was finally brought back, many students noticed the stark difference between Aggie Fests of the past and present. Some students believe the campus events worsened over the years.
Most events that were previously open to the public were now only open for students and required both a ticket and student ID for entrance.
Another difference between the old Aggie Fest and the current festival is that students are also required to purchase tickets for some of the events.
This year three events required purchased tickets, with ticket prices ranging from $3-$8.
Destiny Walker, sophomore marketing student, feels strongly about tickets being priced this year and said, "I don't think it's fair that students have to buy these tickets when we already have the Student Activities fee placed in our tuition."
Druing past Aggie Fest concerts, students weren't required to purchase tickets.
"Aggie Fest was never comparable to GHOE. It was hype but it wasn't like GHOE, but I can say the campus was unified and was all about turning up," said alumnus Que the Promoter.
He also believes SGA and SUAB don't give students exactly what they want when it comes to events and activities.
The current Aggie Fest will probably never reach the esteem that it used to live in.
The university's fear – along with the campus' overall culture – holds the event week back from reaching its predecessors glory.
Fear of attracting unmanageable crowds, the university has hesitancy about allowing large social events on campus in recent years. University police also regularly block off main roads running through campus to deter outsiders.
These are huge reasons why Aggie Fest will never live up to the hype that it used to be.