N.C. A&T welcomes new international students by Marisa Comer
Hang on for a minute...we're trying to find some more stories you might like.
The Office of International Affairs held their New International Student Orientation for students under immigration categories of F-1 and J-1. This orientation featured many graduate and undergraduate students who came from all over the world to attend N.C. A&T.
The Federal Government chooses select colleges and universities that allow international students to attend and pursue their education and degree and out of those, N.C. A&T is included.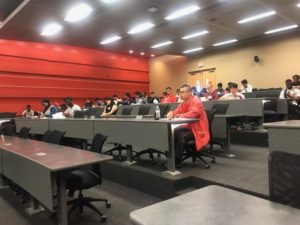 If a student has F-1 status, they are permitted to enter the United States and stay for as long as necessary to complete their degree; however, J-1 status is the "exchange student program" where students only attend for a semester and then return to their home University.
"We have a responsibility to the Federal Government to make sure that we say and also allow students to see their responsibility in maintaining their legal status while inside the United States," said Loreatha Graves, director of the Office of International Affairs.
"This is a mandatory orientation required by Federal Law, as N.C. A&T is an approved University to recruit, educate, matriculate, and employ foreign nationals."
This fall semester, a total of 78 new international students were enrolled into N.C. A&T. Many of the new students traveled upwards of 30 hours to attend this university.
Babatunde "Kesh" Keshinro is an Industrial and Systems Engineering student who is currently seeking a Ph. D. Keshinro experienced his first time traveling to the United States through N.C. A&T, he traveled approximately 24 hours from Nigeria.
"While I was back home I discovered that N.C. A&T had a good program for Industrial and Systems Engineering and especially Human Factors Engineering, so I decided to come for the program," said Keshinro.
At the orientation, the new students received heaps of information about how to stay within their expected requirements which included: maintaining the proper grade point average, making sure their passports and visas are still up to date and ensuring they have insurance coverage.
With the help of the Office of International Affairs and their fellow N.C. A&T students, many of these students from other countries will have the opportunity to learn and adapt to this new way of life.
"Since I already know a bit of English, I knew I would be able to adapt to the culture here easier," said Paul Dupuy, a junior civil engineering student.
"I like having transportation courses, because the transportation in France is a lot different from the transportation here, so that's something I have to learn."
The Office of International Affairs puts in a large amount of effort to share the information required of them but also to ensure that the new international students are comfortable in their new environment. They have been giving a plethora of resources and programs to guarantee that their time in the United States will be full of grand memories.
For any information on International Affairs, the Office of International Affairs is located on the second floor of the Academic Classroom Building.