Food Run services N.C.A&T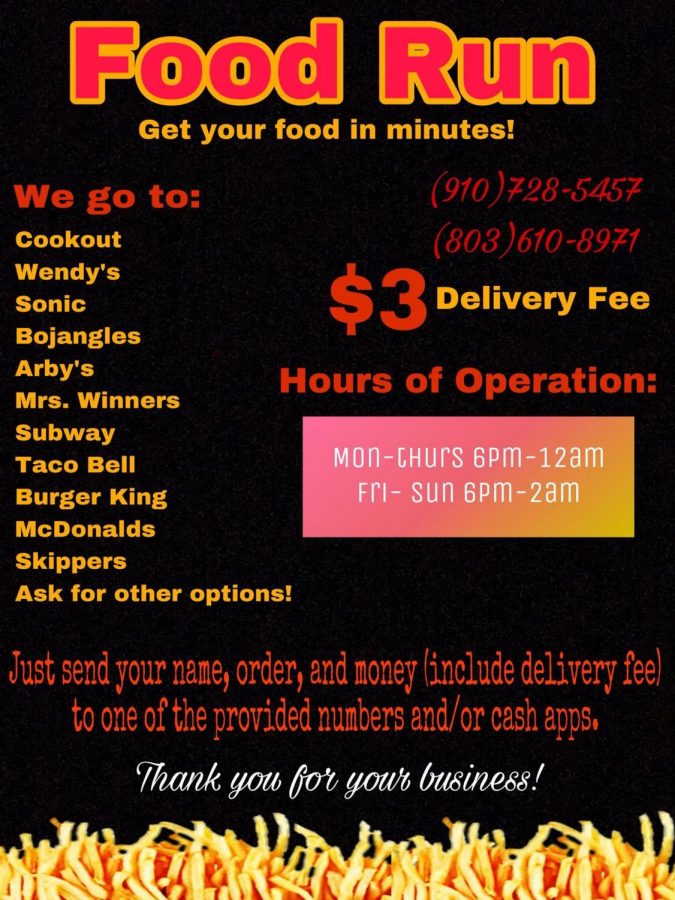 Jewel Moser, Contributor
September 28, 2018
Are you an A&T student with late night food cravings? If so, Food Run is the delivery service for you.
Decorde McNeil, a senior graphic design student and Co-Owner of Food Run recalled his days as a freshman when explaining the inspiration behind the delivery service, " We remembered when we were freshmen without anyone to take us to get food. We didn't have cars or anyone to take us off campus. We came up with the idea of Food Run as a solution to people's late night cravings and put it into action".
Food Run is an inexpensive 'after hours' food delivery service catered to A&T students where customers can message an order and receive it within minutes.
Decorde McNeil and Celine Hill, a junior graphic design student debuted Food Run in the spring semester of 2018, allowing customers to place orders for dining options on Summit Avenue including Cookout, Wendy's, Bojangles and  various others.
After conducting business for a full semester and slowly growing from a friend based idea to a campus known service, the duo ran into an unexpected yet appreciate problem.
"Last semester we were confined to food chains on Summit Avenue. Due to the high demand we are branching out to other restaurants including iHop, Zaxbys and other popular dining options" said Hill.
Accompanied by the opening of a new semester, Food Run has returned to campus providing customers with a variety of dining options.
For prospective customers looking toward ordering with Food Run there are multiple ways of you can place an order. Those methods include; either directly texting or calling Hill or McNeil or direct massaging the business on Twitter at their handle FoodRun_.
In the message customers will need to specify their order as well as the payment amount. " We noticed that Uber Eats and other delivery  services are expensive so we decided we would offer an inexpensive option" said Hill. Included in the payment is a three dollar delivery fee and optional tip for the driver. Means of payment include either sending funds via message through Apple payment or Cash App.
Once the order is confirmed Food Run will send a notification regarding the orders progress. A notification will be sent when the order is picked up, en route, and ready to be delivered.
If customers desire to order from a non listed dining option  an additional fee may be applied depending on the location. To view the full list of dining options either visit Food Run's Twitter handle, 'FoodRun_', or reference the flyer.  
Food Run offers its services Monday through Friday from six P.M. to twelve A.M. and Friday through Sunday from six P.M. to two A.M.
After a semester long stint of conducting business the Food Run co-owners have a word of advice for any prospective or current student entrepreneurs. "Exposure is essential. Starting a social media page as well as having the backing of a supportive group of friends will launch your business" said Hill.
As a final word McNeil added, " If you have an idea, go for it. Put your idea out there and take a chance".
If you would like to place an order through Food Run delivery service contact Celine Hill or Decorde McNeil at the numbers (910)728-5457 or (803)610-8971.
Twitter: FoodRun_