N.C. A&T student focuses on being God Made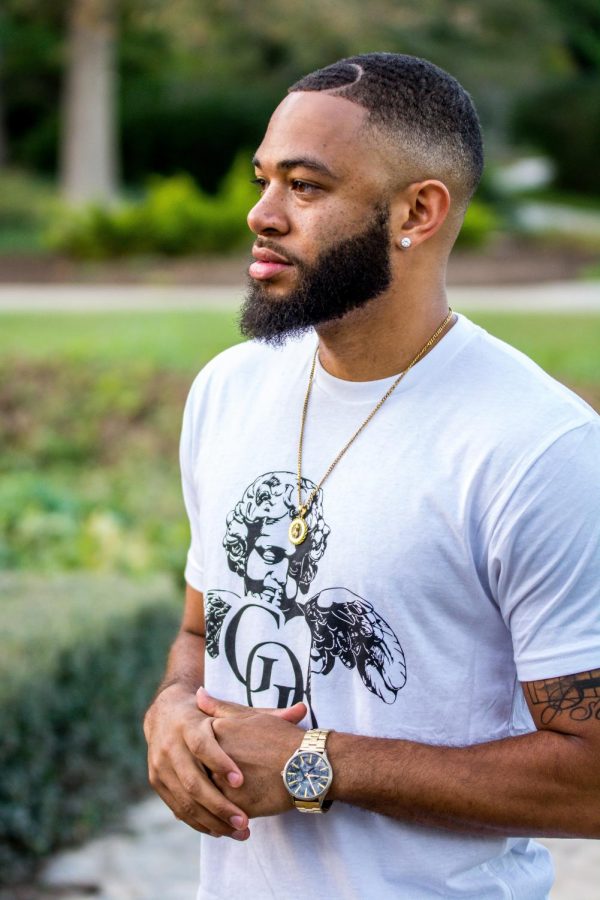 Kayla Clarke, theCulture Editor
October 23, 2018
Martin Jones II, a senior construction management student, launched his new apparel at N.C. A&T on October 19, entitled "God Made."
Life quickly changed for Jones during his sophomore year when he found out he could no longer play basketball.
"After that year, everything just changed. God was just moving in my life and He was saying, 'I'm going to take you at your lowest moment, I'm going to build you up, and I am going to use you for something greater,'" said Jones.
Although God continued to talk to Jones, he said his passion for basketball and not being able to play really impacted his life which resulted in him falling into a deep depression.
"After my sophomore year, I was in a deep depression and had suicidal thoughts because my whole life I had been playing basketball… I was just going through that phase where I just wanted to take my life."
Jones spent his junior year marveling as his life progressed. He became a member of Kappa Alpha Psi but started isolating himself from things that didn't center his attention around God.
During the summer, Jones spent his time in Virginia Beach praying, fasting and talking to God for guidance. With giving up so much of his life and things of the world, Jones just wanted to find out what God had in store for him, he said.
"After I rededicated my life this summer, I couldn't sleep," said Jones. "I was writing down so many ideas and I just wanted to do what God was telling me to do."
Focusing on one brand name, "Brothers and Sisters in Christ," Jones knew that was the idea for his brand, but not the name he wanted.
"The next week, I was working out (at) 4 a.m. I was listening to Nipsey Hussle, and he said he was a self-made millionaire. I said no, I am God made," said Jones. "I just stopped working out and realized that was it. That's my brand. God Made."
From that moment, things began to fall into place.
Jones began to send devotionals every day to four close people and then he began to send devotionals to friends, family, line brothers, and more.
Peace🙏🏽 #GodMade #dailydevotional #inspire #inspiration #motivation #ncat #greensboro #devotion #faith pic.twitter.com/32rLAr5eXr

— God Made (@godmadethebrand) October 30, 2018
"It literally went from messages from Google to messages from me. Then with the 'God Made' brand, it transferred to being my marketing tool because people were already posting my devotions, but it was just a huge build up from there," said Jones.
As a Christian apparel brand, Jones made sure that each part of the logo tied in together.
"The interlocking of the word, 'God,' shows that we are all connected under him. Behind God is a heart showing that God loves us all. The baby has his finger over his lip meaning, 'let go and let God,'" said Jones. "Lastly, the wings stand for unlocking your God-given potential while the baby is just showing that we were born in this world and we are all God Made."
Along with the logo, he entitled the theme: "Unlocking Your God-Given Potential"
Jones sold out of his custom-made God Made t-shirts in two hours; he is grateful to have full support from N.C. A&T students and even close friends.
Senior marketing student, Maya Hall, fully supported Jones from the beginning of his brand and is now a brand ambassador for God Made. She has watched as the brand has progressed.
"I am just blessed to be a part of this because it is definitely an experience that has only just  started. I am just so excited to see how far it will grow," said Hall.
In the next few years, Jones plans on opening up his own business and expanding it to more than t-shirts, but hoodies and eventually business casual clothing like suits, ties, and more for women and men.
As an up and coming entrepreneur, Jones leaves one piece of advice.
"You have to give up something for God just to gain something else. You have to give up your life and that's all He's asking," said Jones.  "That's what this brand stands for, unlocking your God-given potential. See what God has for you. He'll give it to you, but you have to follow Him."
For more information about the God Made brand, be sure to check out his website https://godmadethebrand.com that offers daily devotions, why he started God Made, and of course, t-shirts.
Twitter: godmadethebrand
Instagram: godmadethebrand_