Why "The Beard" is going back-to-back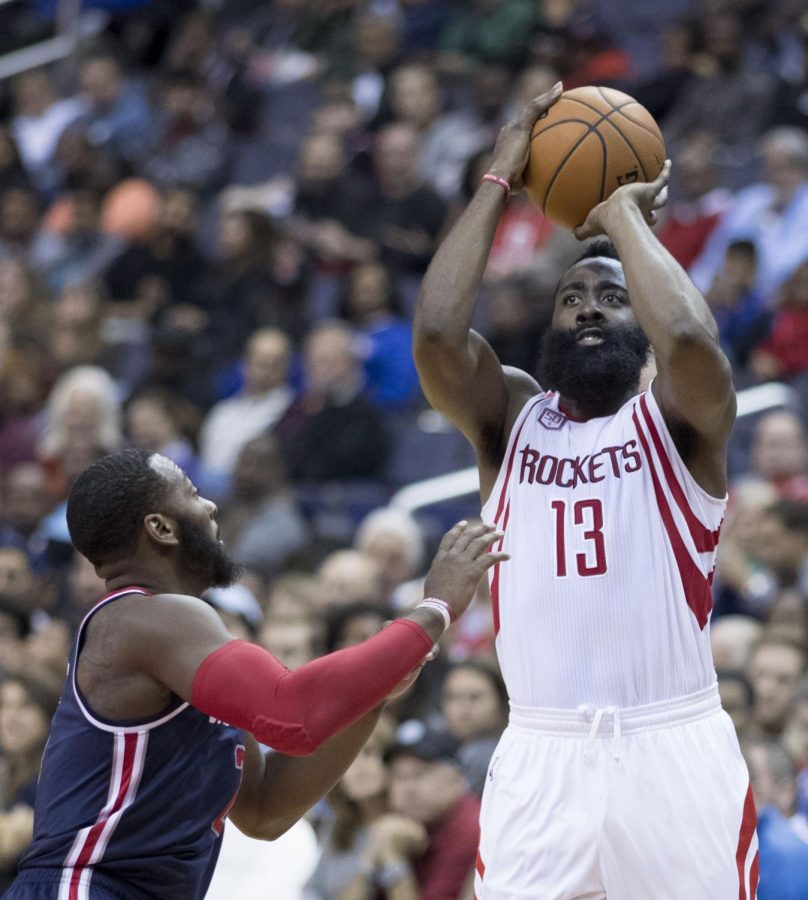 Devin Henry, Contributor
April 24, 2019
To close out the 2019-2019 NBA season James Harden produced another memorable performance when he tied his career-high and dropped 61 points versus the San Antonio Spurs.
This NBA season, Harden has been compared to NBA Legend Wilt Chamberlain for his ability to willfully score from any place on the court.
Top 10 scoring games this season🔥

1. James Harden (61)
2. James Harden (61)
3. Kemba Walker (60)
4. James Harden (58)
5. James Harden (58)
6. James Harden (57)
7. James Harden (57)
8. LaMarcus Aldridge (56)
9. James Harden (54)
10. Giannis Antetokounmpo (52)

Notice a trend?

— NBA Quick Report™🏀 (@NBAquickreport) March 23, 2019
Harden has once again become a strong candidate to win the NBA's Most Valuable Player (MVP) award because of the way his team maximizes his skill set.
According to NBA.com, Harden is currently leading the MVP Candidate race followed by Giannis Antetokounmpo and Stephen Curry.
If selected as this year's NBA MVP, this would be make him a back-to-back winner of the award and the first player to repeat since Stephen Curry (2015-2016).
Harden led the Rockets to the No.4 seed in the Western Conference playoffs. After starting the season having 11-14, the Houston Rockets finished with a record of is 53-29 this season.
Harden averaged 36.1 points, 6.6 rebounds, and 7.5 assists per game. He is averaging 18 points a game just from isolation plays. Compared to other players in the NBA, he is averaging four times more points based on playing in isolation. He is breaking down the boundaries of traditional gameplay and is adding a unique sense of flair to his style of basketball.
He won his second consecutive scoring title this season. Paul George, who finished second for the scoring title, averaged 28 points per game, eight points behind Harden.
Who is your MVP – Giannis or Harden? #NBAPlayoffs #WallpaperWednesday pic.twitter.com/f8MiyS0W1d

— Pod is Life (@PodisLife1) April 24, 2019
Giannis Antetokounmpo has made a strong argument versus Harden for the MVP based on his ability to score at the basket. He uses his long body frame to adjust his layups, so defenders cannot reach them.
Unlike Harden, Antetokounmpo has not fully mastered the jump shot, a critical part of playing basketball in today's generation.
Exceptional shooters like Curry and Harden have fully transformed the old way of NBA basketball by relying more on the three-point shot.
Antetokounmpo's game focuses more on driving to the basket and using slasher-style gameplay to score.
This slasher-style gameplay was popular up to the late '90s, and players such as Reggie Miller began to change the game and utilize the three-point shot.
Antetokounmpo has a team which supports his slasher-style of gameplay with a "drive and kick" offense which allows him to drive to the hoop with the option of passing to his teammates who shoot the three effectively.
He has a very supportive team, but the Milwaukee Bucks could not function as effectively without Antetokounmpo.
Antetokounmpo capitalized on his team's abilities the Bucks locked up the No.1 seed in the Eastern Conference and home-court advantage throughout the postseason with a record of 60-22.
Harden's gameplay this season has evolved the modern style of NBA basketball and has been one of his best seasons to date.
Both Harden and Antetokounmpo are strong candidates for the NBA MVP award but only one can receive the honor.
The Kia NBA Awards will be announced June 24, 2019, and will be shown on TNT. Fans will have the opportunity to vote for their favorite candidate online. Voting is coming soon and will be available on NBA.com.