Super Bowl LIV and how each team can win
Matchup: San Francisco 49ers vs. Kansas City Chiefs  
The Chiefs offense against the 49ers pass rush; can Chiefs force Niners to pass?
The Chiefs are riding a tremendous wave of confidence. The team is riding an eight-game winning streak including two playoff wins in which they were down more than 10 points in both games and end up winning both games by over 10 points.
Patrick Mahomes has passed for 615 yards and eight touchdowns in the Chiefs two playoff victories.
Jimmy Garoppolo has only passed a total of 27 times this postseason for one touchdown and one interception — not that he's needed to, thanks to Raheem Mostert and the Niners second-ranked rushing attack. 
The Chiefs have only allowed nine sacks during their eight-game winning streak and none of those sacks have come against All-Pro right tackle Mitch Schwartz per Pro Football Focus (PFF). 
Both teams finished their practice weeks with no one on their respective injury reports which means a healthy Chiefs offense versus a healthy 49ers defense which includes the league's top-ranked pass defense led by All-Pro Richard Sherman.
If the 26th ranked Chiefs run defense (per NFL.com) can force the Niners to pass that bodes well for the team formerly known as the Dallas Texans. The Chiefs pass defense dramatically improved this season — thanks to All-Pro Tyrann Mathieu, as they finished eighth in that category. 
Super Bowl LIV promises to be a matchup of 'can the 49ers be better at what they are good at' versus 'can the Chiefs be better at what they are good at'.
How San Francisco can win: Pressure Mahomes enough that he is limited to checkdowns
It is widely known that most defensive plays are only usually effective enough to last four to five seconds. When receivers run one route then run another in the same play, it usually does not bode well for the secondary. 
The Niners have a defensive line full of monsters and are one of the top pass-rush defenses in the league, and if they can force Mahomes to check the ball down to the flats, they have a better chance of winning.
The Chiefs are probably the most one-play touchdown friendly team in the league, which means they do not need many plays to put up points in a drive. 
The Niners should really test the Chiefs run defense and make them work to stop Mostert and that zone run-heavy scheme. Once the 49ers do, that will open up the pass game for Garoppolo where he, too, has an abundance of options to go to in the pass game. 
Or, they can sit on the ball if the run game is percolating and cruise to what would be the team's sixth championship in franchise history.
If Garoppolo needs to out-duel Mahomes, then the 49ers will most likely have no problem with that, but if they do not need to go down that route, then they should avoid that route altogether.
How Kansas City can win: Force Jimmy G to out-duel Patrick Mahomes
The formula for the Chiefs to win the Super Bowl is very similar to the formula they used to win the AFC Championship: limit the opposing team's rushing attack and force their quarterback to out-duel the 2018 NFL MVP.
Garoppolo is no slouch, as he passed for 27 touchdowns and 13 interceptions, but Mahomes is already being dubbed as not only the face of the Chiefs and the NFL but a generational talent in his third season in the league, too. 
Mahomes has been on a tear this postseason not only in the pass game but in the run game as he is the Chiefs leading rusher this postseason with 15 rushes for 106 yards and a touchdown. 
While the Chiefs cannot expect to win if Mahomes is leading in rushing, it does force the Niners to take a defender and make him a QB spy, which is one less defender with his eyes on the explosive Kansas City wide outs.
As we have seen this postseason, an early lead or multiple three and outs energizes the Chiefs defense, especially in the run game. 
They are going to need it if they want to even think about sniffing the Lombardi trophy.
About the Writer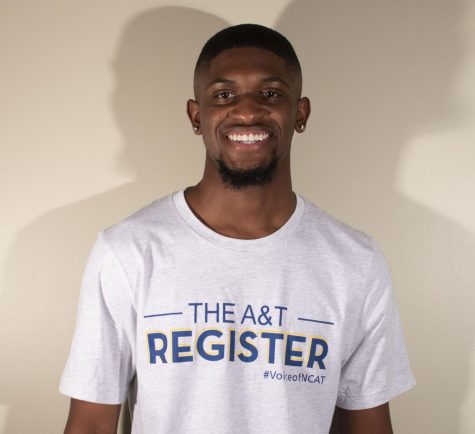 Jarod Hamilton, Editor-In-Chief
Senior journalism and mass communication student with a concentration in multimedia journalism.