Get to know one of N.C. A&T's growing organizations: A.S.C.E.N.D
N.C. A&T is home to many innovative, collaborative and student-led organizations. A.S.C.E.N.D is a Christian-based nonprofit organization created by alumnae Makenzie Craig and Lauryn Bethea that inspires minority women to find their purpose while empowering and serving their community.
A.S.C.E.N.D is an acronym that represents what the organization stands for. The organization was created for minority women who Aspire, Serve, Care, Empower and Network.
A.S.C.E.N.D hosts daily bible study events on campus open to all students to develop a closer relationship with Christ and surround themselves with individuals who want to do the same.
Charity Ewing, a junior elementary education student, and current bible study chair, most enjoys her relationships with her peers and seeing the relationships they have developed in Christ.
"What I love most is that I am surrounded by Black women that all want to grow in our relationship with Christ and most importantly, we have fun doing it," Ewing said. "The organization gives women led by Christ a safe space on campus, and I absolutely love that."
Inspired by the strength and power of Black women, the creators wanted to create an opportunity to continue sharing and empowering other women that looked like them.
"We were inspired to create A.S.C.E.N.D because we are both very passionate about empowering Black women along with community service and we wanted to create something that would merge the two, allowing us to serve our campus and local community," Craig and Bethea said.
The organization also hosts several community service opportunities for members to engage and give back to the community. Some opportunities include volunteering with local food banks, hosting backpack drives and hosting book drives.
Recently the organization hosted its recurring community clean up, where members participated in picking up trash throughout the area while bonding with one another.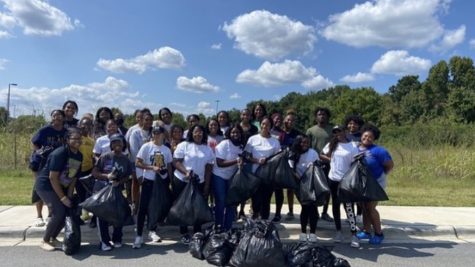 "The community clean-up was a huge success," Ewing said. "I was so glad to see everyone eager to clean up our community."
Networking and bonding are also essential to the founders of A.S.C.E.N.D. The organization hosts several bonding events allowing students to have fun and engage with the rest of their class outside the classroom.
The creators of the organization have since departed from N.C. A&T, but both ladies still have much to be proud of.
"We're most proud of the positive impact our members can create and the long-lasting friendships the organization has brought us. We see this organization sticking around because of the continuous positive impact and the leaders who keep it running," Craig and Bethea said.
For updates and information about A.S.C.E.N.D, visit the organization's Instagram page.