Woman-owned business, Thrive Coffee Co. Joins Sonder Mind and Body in Downtown Greensboro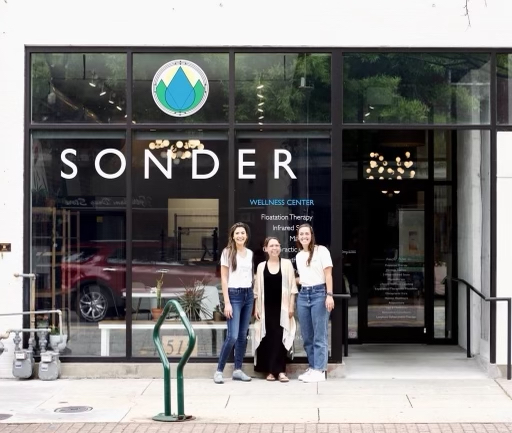 What started as a simple joke turned into an idea to bring women-owned businesses together through specialty coffee, event planning, and pop-ups.
Owner of Thrive Coffee Co., Kalen Bingham, moved her mobile cart business from ABBA Design, a florist and event planning company, to Sonder Mind and Body in January 2023.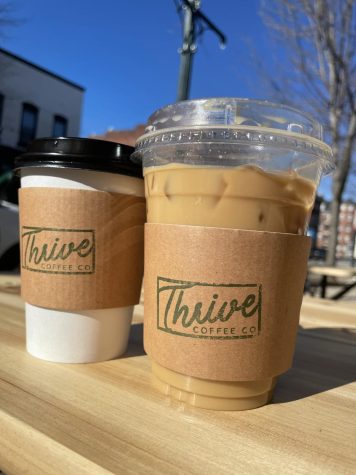 From 2018 to 2021, Bingham was a fourth-grade teacher until she decided she wanted to expand her love for coffee.
"I was teaching in the midst of the COVID-19 pandemic, and I was getting burned out and decided that I needed to do something else," Bingham said. 
In October 2021, Bingham launched her mobile cart. She still roams around Greensboro whenever there is a small business networking event or a pop-up with Wanderlust Boards, a company that makes themed curated cheese and fruit boards.
Bingham then started her first partnership with ABBA Design and resided there for two years.
 "Jokingly I went to ABBA Design and I chatted with the owners and expressed that it would be cool if they had a coffee bar in their shop," Bingham said. "They actually loved the idea a lot." 
Bingham understands how tough women-owned businesses can be without the proper support, love, and respect.
"Being a woman-owned business sometimes means that you are not always seen as equal," Bingham said. 
When Sonder Mind and Body reached out to her for a partnership in February 2022, she became ecstatic to serve Downtown Greensboro permanently, with another woman-owned business.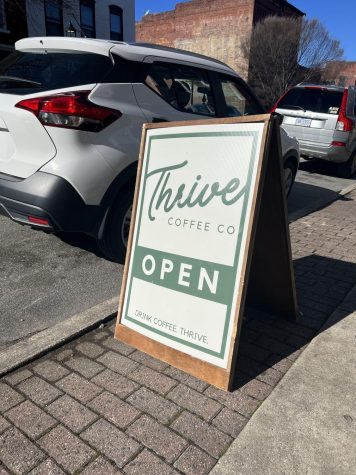 "Partnering with Sonder is super empowering," Bingham said. "At Thrive, we not only believe in growth but also in growing mentally and physically; this is a wellness center."
Like most newly owned businesses, Thrive is in its soft opening stage, where it takes time for potential customers to know where the company is located, what they are about and to come and see the space.
To market the newly opened business, Thrive owners and employees turned to social media, handing out flyers to neighboring businesses, and even contacted the administration of nearby apartment complexes to help spread the word. 
Sam Atteberry, a barista at Thrive, believes that the shop is a flourishing and refreshing addition to the heart that is downtown Greensboro.
"Coffee shops really foster communities and I think Thrive definitely has the ability to deliver a different feel than other coffee shops," Atteberry said. "My hope is that one day it's the biggest and best."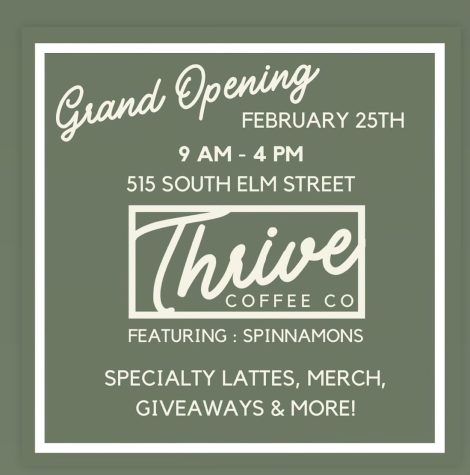 First-time customer, Carol Dennis enjoyed the convenience, size, and overall ambiance of the establishment.
Still, one thing stood out to her the most about the coffee shop, the fact that it is women-owned. 
"Actually, for me, it's interesting because if there was a sign outside a business that said women-owned, Black-owned, and minority-owned business, that's where I wanna go," Dennis said. 
Thrive Coffee Co. will be having its grand opening on Feb. 25th. There will be specialty coffee, merch, and giveaways that will last from 9 a.m.- 4 p.m.
The coffee shop is located inside Sonder Mind and Body on 515 S. Elm St. and is open Tuesdays through Sundays from 7 a.m. to 3 p.m.