Women's Month Highlight: N.C. A&T Women's Tennis Team
As National Women's History Month comes to a close, the N.C. A&T Women's Tennis Team is making sure they do not go unnoticed. The team has been making a name for themselves in the Colonial Athletic Association (CAA) conference, and the players are just getting started.
"I really like the energy of this team," said freshman player Lana Caculovic. "We support each other a lot, and that's what helps us win."
In the team's match against Norfolk State, Caculovic defeated the Mid-Eastern Athletic Conference (MEAC) player of the year.
"Winning that match makes me want to push myself even more. Maybe after college I'll go pro," Caculovic said.
The sisterhood is strong within this team. Every player wants to see their teammate succeed.
"I've learned so much from them," Caculovic said. "They help me when I get nervous and things like that."
Despite being an all women's team, the head coach happens to be a man. Coach Dejon Bivens believes that the girls deserve more attention than they get.
He believes this so much that when asked to comment on his experience as coach, he declined, because he wanted the team to have all of the shine.
"Dejon is tough, but he pushes us to be better," said sophomore and team captain Cielo Tapia-Cruz.
"We are doing really well thanks to him."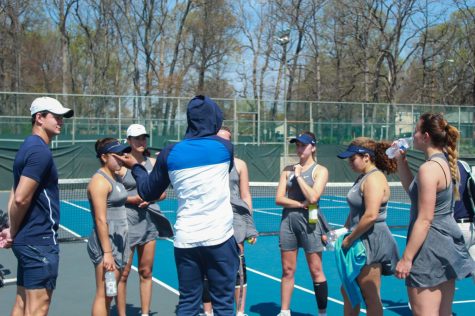 As team captain, Tapia-Cruz has a responsibility to make sure the team gels. Despite the pressure, she takes on this leadership role with pride.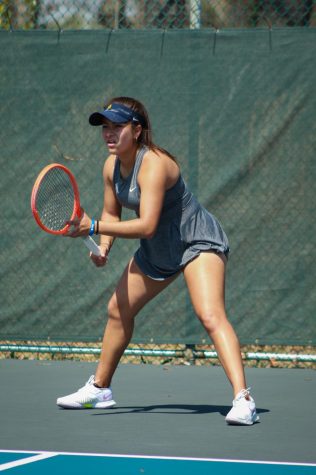 "We do a lot of activities together outside of tennis," Tapia-Cruz said. "What we do off the court helps us to become closer. This team is like my second family."
The lady Aggies just received their first weekly award from the CAA, Tapia-Cruz and freshman player Nuria Sanz won Women's Tennis Doubles of the Week. This accomplishment comes after a 4-0 victory over CAA opponent Towson University, which was the Inaugural CAA Match.
Sanz is also undefeated in singles matches. She currently stands at 8-0, and was on her way to her ninth win before her match versus Delaware State was stopped short.
"It's a great feeling," Sanz said. "It makes me more motivated during practice."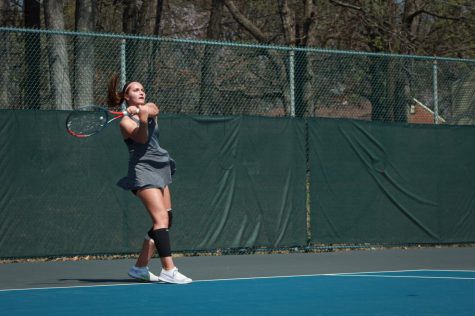 With tennis being a male dominated sport, it is important for women who are playing at a high level to get the same amount of recognition.
"Every step women take in the world in general is important," Sanz said. "We have the opportunity to show what we can do and what other women can do within our sport."
The women's tennis team is currently 5-5 overall and 1-1 in the CAA.