Millions tuned in this past Tuesday for pop culture's biggest night for music and music videos. Many artists, producers, directors and public figures were in the building to take their win and enjoy the show.
 MTV's 2023 Video Music Awards was a show that could not be missed. The night consisted of many surprises and jaw-dropping performances, including an iconic tribute to the 50th birthday of hip-hop. The award show was hosted by the hip-hop queen herself, Nicki Minaj.
 There are no VMAs without the infamous red carpet pre-show or, in this year's case, the pink carpet as it paid respect to Nicki Minaj's fuchsia Dolce and Gabbana gown she wore for her Video Vanguard award speech in 2022. Nonetheless, everyone graced the carpet with style and spunk.
With many outfits being debuted on the red carpet it gives room for being deemed best dressed. CNN highlighted Cardi B, Selena Gomez, and Nicki Minaj as best dressed of the night along with NLE Choppa, TOMORROW X TOGETHER, and Billy Porter. 
 The VMAs started with a feel-good performance by global icon Lil Wayne, performing "Uproar" and "Kat Food," followed up with pop sweetheart Olivia Rodrigo. Minaj continued being the master of ceremonies, telling MTV in her
opening monologue, "I can control myself. But you know Roman, Red Ruby Da Sleaze, and Chun Li can't."
 Many songs made their debut, from Cardi B and Megan Thee Stallion's first-ever live performance of their new track "Bongos" to Demi Lovato's rock set of her timeless yet newly transformed hits such as "Heart Attack," "Sorry Not Sorry" and "Cool For The Summer."
 Other performers such as Kalii, who graced the Doritos Extended Play Stage, and Metro Boomin were a sight to see, with their songs guaranteed for any party to go up.
 The awards began to land in the form of the famous "moon men." Taylor Swift won nine awards at the show, most of which were from her song and self-directed music video, "Anti-Hero." Other acts that took some moon men home include Rema and Selena Gomez, Anitta, Doja Cat, Dove Cameron, Karol G and more.
 The globally known event wouldn't be the same without international talent. The 2023 Video Vanguard Award went to the one and only Shakira. The recipient performed a rendition of her smash hits such as "She-Wolf," "Objection (Tango)," "Whenever, wherever," and, of course, "Hips Don't Lie." Other international acts included K-pop superstars TOMORROW X TOGETHER and Stray Kids.
The night came full circle with Diddy winning the Global Icon Award and performing his iconic hits with his son, rapper King Combs, Yung Miami and a surprise appearance by Keyshia Cole with their song, "Last Night."
Hip Hop made its rounds with DMC, Doug E. Fresh, LL Cool J, Lil Wayne and Nicki Minaj paying their respects to the iconic genre, highlighting its past and present with a jaw-dropping performance.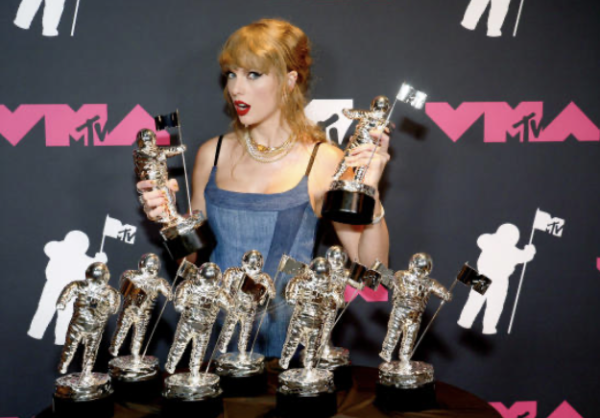 The last award was given to pop perfection's Taylor Swift, who won Video of The Year for her music video, "Anti-Hero." 
The night ended with many surprises, such as Ice Spice releasing her new Dunkin Donuts drink, "Ice Spice MUNCHKINS Drink," available across Dunkin Donuts stores now. Additionally, Nicki Minaj performed an exclusive snippet from her highly anticipated album "Pink Friday 2," called "Big Difference," which is available on YouTube.
 Pop culture's biggest night did not disappoint. The night's biggest moments can be found on MTV's YouTube channel. You can only imagine what MTV may have next year for the iconic award show.