It goes without saying that one of the most anticipated parts of any HBCU football game is the majorette dance performances. The outfits, sharp moves and dazzling smiles come together to create the perfect show. 
At N.C. A&T specifically, the ladies of Golden Delight have been shining icons of majorette dancers since the 1900s. But something was missing from the dance team  – plus size representation.
Thus came the creation of Liquid Gold.
Junior mass media production student and captain of Liquid Gold, Jada Mayes, has always had a passion for dance but didn't see a place for her to share her talent.
"With the research I did before I attended A&T, I noticed there wasn't really a space for plus-sized dancers to do this style of dance," Mayes said. "So, I created Liquid Gold."
Liquid Gold is a home of inclusivity and a place of empowerment for the members. Sophomore theatre student Olivia Smith says joining Liquid Gold was an easy decision.
"I knew it was my chance to showcase myself and my talent," Smith shared. 
Inspired by her love of dancing and other plus-size dance teams, like the Alabama State Honeybeez, Mayes aimed to demonstrate that plus-size dancers can hold their own alongside traditional majorette dance teams.
"It was so important for me to create Liquid Gold to not only show what plus-sized dancers can do, but to create a safe space for people like me who have these same passions and wanted to dance in college," Mayes said. 
However, the journey to starting Liquid Gold hasn't been smooth sailing. Mayes detailed the struggle the group went through while trying to become a registered organization. 
From being denied dancing with the band to not having answers to their inquiries for months, a lack of communication has been a major roadblock for the dancers. 
However, the group refused to let this deter them.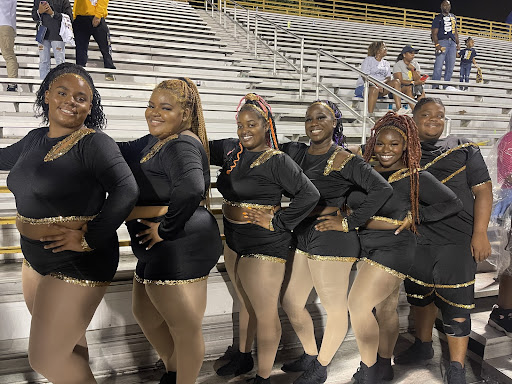 "What's next for Liquid Gold is to hopefully become an official organization," Mayes said. "We also have many performances coming up. We've been looking at outside events like Greensboro Pride and university events that SUAB hosts." 
"We will be at the GHOE parade and we'll be performing at the rest of the home football games, Mayes shared."
Among the student body, support is strong for the dancers. R'Nasia Murphy, a junior entrepreneurship student, thinks the team is a great thing but it shouldn't have been like that in the first place. 
"I'm used to body diversity when it comes to dance teams, especially from majority Black schools," Murphy said. "If they have to start their own team in order to be recognized and enjoy dancing, then they should be able to." 
"It's disappointing to hear that they had to do it in the first place since that's usually such a non-issue in the dance community, at least for the black community," Murphy said.
Although the road has been long and they still have a way to go, Liquid Gold is nowhere near finished. 
"One thing I would like people to know about Liquid Gold is that we will not be backing down any time soon," Mayes said.
"I want my legacy of Liquid Gold at A&T to be the first team to become official and dance with the BGMM," Mayes said. "I've been told that many have tried and were unsuccessful but I'm not one to back down." 
"People will remember Liquid Gold as the plus size dancers who would bring it to the floor EVERY time," Mayes continued. " We know what it's like to be made fun of and rejected, so we want to be that safe space for everyone around us."
For now, the team is looking to expand their reach. They recently had tryouts for the fall semester in August and are planning spring tryouts for January. 
To keep up with Liquid Gold's journey, be sure to follow them on Instagram.