Zakiya Dalila Harris's debut novel, "The Other Black Girl," is a story set in the esoteric book-publishing world. The main character, 26-year-old Nella Rogers, is a passionate and overworked editorial assistant tired of being the only Black girl at the company—Wagner Books. 
Harris's novel mocks not only the industry's lack of diversity, but also its shallow efforts to address issues in response to widespread criticism by readers. 
Before its publication in 2021, the author collaborated with Rashida Jones, actress and writer, on a 10-episode adaptation of the show for Hulu. Both women served as executive producers and wrote the pilot episode. 
The challenges of working with Jones made Harris' tough questions about highlighting black voices and stories favored by the mostly white establishment even more complicated.
The show hit subscribers' screens Sept. 13 with a remix of the plot, reimagined character flaws and a thriller that left people watching from the edge of their seats. 
When readers see Nella Rogers (Sinclair Daniel) for the first time on screen, they learn she aspires to be a full-fledged editor. 
She also aspires to release significant work authored by and centered around black individuals, just as her role model Kendra Rae Phillips did when she guided Nella's beloved book, "Burning Heart," through the publishing world in the 1980s.
Now, there are discussions about a potential promotion from her boss, the renowned editor Vera (played by Bellamy Young from "Scandal"). Amid the discussions, Nella is met with another challenge she doesn't realize hinders her success. 
Equally thrilling is the arrival of a new assistant, Hazel-May McCall (portrayed by Ashleigh Murray from "Riverdale"), who will work beside Nella, making a significant shift where Nella is no longer the sole minority in the workplace.
In the world of the show, its unpredictability and thematic surprises provide a silver lining for viewers, catering to those who relish the story's enigmatic qualities.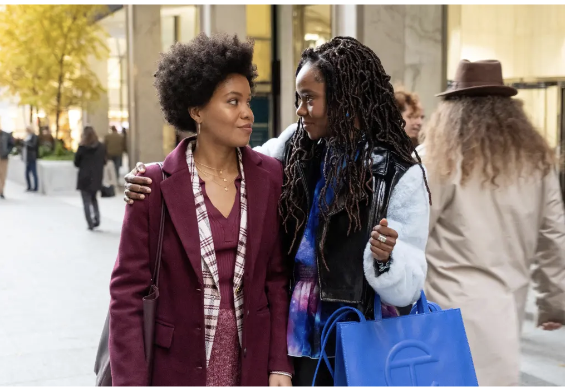 Nevertheless, its prolonged pacing and hesitation to fully embrace specific genres can be traced back to the novel it's based on. This connection to the book adds depth to the show's narrative.
While pegged as satire, it falls short of the expected humor. Compared to other psychological thrillers, it lacks the expected suspense, and as a horror story, it fails to evoke genuine fear.
Aspiring authors like Tatijana Sowell, a senior multimedia journalism student, were excited to see an adaptation of a book that values Black representation in the publishing industry despite unforeseen competition between two Black women vying for the same position. 
"When I saw the ending, I thought, 'It's always your own people,' and it relates to life today. We always think the white man is trying to take us down, but as a community, we also do the same things, so I appreciate how it corresponds to how the world works," Sowell concluded. 
Other writers, like Mariah Hunt, a junior multimedia journalism student, didn't appreciate the slow-paced guide to establishing a solution to the evident problems that revealed themselves in the end. 
"I didn't like how Hazel's background was revealed at the end of the season. I would have liked to understand her character and the reasons for her decisions much earlier," Hunt said. 
"If I had to change anything about the show, I would have made the main character, Nella, more self-aware. At the beginning, and towards the rising action, the writers made it seem like she was so naive about everything around her, including her job, and her supposed 'new friend,'" Hunt shared. 
Mattie Moore, a junior multimedia journalism student, enjoyed every second of the adaptation, and established a liking for work that offers a unique perspective on systematic racism, unlike other series.  
"I really enjoyed it," Moore said. It kept me on the edge of my seat the entire time. I feel like it is very different from many series I've watched recently by providing a creative perspective on systematic racism."
Harris, whose career path shares similarities with her fictional characters, Nella and Hazel, considers all facets of questions about the industry without giving in to the temptation of overly simple answers. This achievement deserves recognition. 
Television programs that excel in their technical aspects are abundant today. However, series like "The Other Black Girl" stimulate thoughtful discussions, leave viewers contemplating profound questions, and continue to be a scarce and precious find.