The fall season has arrived and with the season comes the desire to get cozy with your favorite sweaters and blankets, and turn on your favorite TV shows. But, some of these shows have gone cold turkey as writers and actors feel they have not been paid properly for the work that they do.
The 2023 Writers Guild of America Strike officially began on May 2 when the guild, which represents 11,500 screenwriters, went on strike due to a labor dispute between the Alliance of Motion Picture and Television Producers. This started due to the lack of pay that writers were receiving for their work.
Amid the strike, actors also shared their residual checks, which are checks that are given to actors when a TV show or movie airs after its original release date. During the strike, some of the actors decided to expose the world to the astonishing numbers that appeared on their checks. 
Robert Carradine, popularly known for his roles in "Lizzie McGuire" and "Revenge of Nerds," shared that he received a residual check of $0.00 from Disney Worldwide Services.
 He posted this information to Instagram with the caption, "Why we are striking." 
William Stanford-Davis, also known as Mr. Johnson in the recent Emmy-award-winning comedy series Abbott Elementary, shared a residual check he received of five cents from a show he kept nameless. 
In the Instagram post, Davis said, "I'm standing in solidarity with the writers, and we're going to be on strike until we get what we need to make a living."
This means that some of the popular fan-favorite shows like "Stranger Things," "Euphoria," "Abbott Elementary," and many more will be halted until the needs of the writers are met. 
Lamar Prioleau, a senior creative writing major and published author of the book entitled "Angel Fall," said he sees no issues when it comes down to the writer's strike. 
"I fully support the writers' strike," says Prioleau. "I think capitalism and the rapid advancement of artificial intelligence has lessened the value of the human mind and how necessary writers truly are."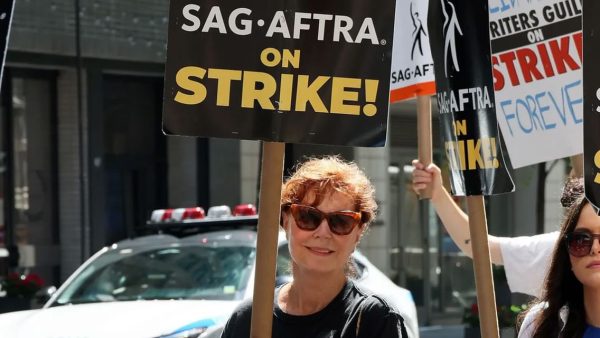 When Prioleau was asked if he believed this strike would be successful, he said that this strike presents an excellent opportunity for authors as long as they maintain their stance. 
"These big corporations need to start losing a lot of money before any changes will actually start happening," Prioleau said.
Although this strike is huge and will without question affect the pockets of big companies, this strike will also affect the compensation of the writers in question.
They have decided to stop writing and pushing out new work during the strike, leaving most of them with little to no income from any written work. 
Senior journalism student and president of Aggie Filmmakers Daniel Ward, expressed his thoughts on A.I. for the film industry and inspiring filmmakers here on campus.
"A.I. is a solution to a non-issue, at least in the scope of entertainment and art. The problem that the strikes are aiming to combat is corporate commodification of art," Ward said. 
"The ultimate goal of these entities is to make the most money while spending the least amount of it, while completely disregarding the art aspect of filmmaking. So there is a clear attempt to force humans out of the filmmaking process for sure, but I don't believe it will get to the point of replacement, fortunately."
Senior journalism student and producer of "Rise Above TV Productions" Rachel James, said that a show she was looking forward to within the upcoming year was "Euphoria," however, that show is being pushed back to 2025 instead due to the strike. 
"Of course, it's not the best thing in the world that our writers are on strike at all," said James. "But I do believe in change. I also believe that if writers still want to write, they should work with smaller independent filmmakers who will help them and answer their needs and wants." 
James said that the strike is 'valid' and that it should continue until the needs of the writers are met. 
"There is so much talent that comes from writers and they are overlooked," James shared. "Without them, the TV industry is nothing."
A full list of shows that have gotten pushed back this year is accessible through the link here. 
The strike has since been resolved as the Writers Guild of America reached a contract agreement with studios.